business
Cash-Rich Investors Are Hungry for Deals
By and
Dealmakers eye volatility as potential catalyst for downturn

Delivering returns amid competition is PE's 'biggest issue'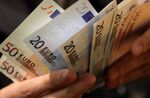 Private equity firms are sitting on the largest pile of cash they've ever amassed. This week, top dealmakers will gather to discuss ways to deploy it.
The SuperReturn International conference kicks off Monday in Berlin, with more than 2,300 participants slated to mingle at the annual watering hole. Billionaires David Rubenstein of Carlyle Group LP, Leon Black of Apollo Global Management LLC and Bruce Flatt of Brookfield Asset Management Inc. are among scheduled presenters.
Among the topics expected to permeate the event is whether equity market volatility early this month -- when U.S. stocks tumbled the most since 2011 -- could be just the thing to stimulate dealmaking.
From an investing standpoint, "the industry is probably looking forward to a bit of a slowdown and a downturn," said Bob Brown, co-founder of fund advisory firm BearTooth Advisors. "Most of these firms have a lot of capital to invest, and they would rather be doing it at lower valuations."
While corporate merger and acquisition activity was already off to its strongest start to a year since 2000, buyout firms are still seeking opportunities to take listed companies private.
Volatility Plus
"Increased volatility will benefit private equity funds, especially those looking at public-to-private deal opportunities," said Christian Sinding, EQT Partners' head of equity. Eight executives from the Stockholm-based firm are booked to speak at the conference.
The mountain of "dry powder" capital at buyout firms was built up during a fundraising spree in recent years, spurred by institutional and wealthy investors who are seeking returns outside of stocks and bonds. Apollo last year sealed $24.7 billion for its latest global private equity fund, the largest pool ever raised by a leveraged buyout firm. CVC Capital Partners collected more than 16 billion euros ($19.7 billion) for its flagship European and North American fund, the most ever gathered by a European buyout firm.
EQT last week said it got 10.8 billion euros for its biggest-ever pool, exceeding an 8 billion euro target.
BearTooth's Brown said "every astute investor" recognizes that markets are overdue for a downturn, and many are stockpiling cash. That market view is encouraging some funds to return to investor wallets sooner, he said.
"They want to get their fundraising done and over before something hits," said Brown.
Largest Challenge
With so much capital poised to be plowed into investments, dealmaking will be competitive. That creates what Sun Capital Partners' Marc Leder calls the private equity industry's top challenge.
"The biggest issue facing private equity is how to deliver attractive returns in a highly competitive environment with elevated asset values," said Leder, the Boca Raton, Florida-based firm's co-founder, who's attending SuperReturn. He said Sun Capital is focused on finding high-quality management teams to back and supporting them with its operating experts to increase value.
Debt investors, who help fund private equity transactions as well as lend directly to businesses, also populate the halls of Berlin's InterContinental Hotel, where SuperReturn is held. Mark Jenkins, Carlyle's head of global credit; Kipp deVeer, Ares Management LP's global head of credit; and Mike Ewald, global head of Bain Capital's private credit group, are billed to present.
Before it's here, it's on the Bloomberg Terminal.
LEARN MORE