Ramaphosa's Lieutenants: Inside South Africa's New Cabinet
By , , and
Nene named finance chief, Gordhan to oversee state companies

Mantashe is mines minister, Radebe gets energy portfolio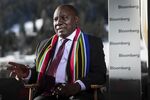 South Africa's newly elected president, Cyril Ramaphosa, named a new cabinet on Monday, replacing some of his predecessor Jacob Zuma's most ineffectual ministers and ardent supporters with his own loyalists from the ruling African National Congress.
These are some of his key appointments:
Deputy President: David Mabuza


A former schoolteacher, Mabuza has served as premier of the eastern Mpumalanga province since 2009. He was elected as the ANC's deputy president at a party conference in December after helping Ramaphosa win the top party post. Widely known by his initials DD, Mabuza has been accused of helping to rig state tenders and having his opponents in Mpumalanga silenced -- accusations he has denied. He fills a post previously occupied by Ramaphosa.
Finance Minister: Nhlanhla Nene

Nene served as deputy finance minister before taking over from Pravin Gordhan as finance chief in 2014. He won the respect of investors before Zuma fired him in December 2015 and appointed little-known lawmaker Des van Rooyen to the post -- a move that sparked a sell-off in the rand and nation's bonds. Nene then quit as a lawmaker and took up a position on the board of fund manager Allan Gray, became an adviser to Thebe Investment and served as temporary head of the University of Witwatersrand's Business School. He takes over the portfolio from Malusi Gigaba, who was reappointed to his previous post as home affairs minister.
Minister of International Relations: Lindiwe Sisulu

A former housing minister, Sisulu takes over a post previously occupied by Maite Nkoana-Mashabane, who was named minister of rural development and land reform. Sisulu was Ramaphosa's running mate in the ANC's internal elections in December but lost the contest for the No. 2 party post to Mabuza. The daughter of the late ANC luminary Walter Sisulu, who was imprisoned with Nelson Mandela, she trained as a teacher and previously served as minister of defense and military veterans, intelligence and public service and administration.
Public Enterprises Minister: Pravin Gordhan

Gordhan will oversee six of the largest state companies, including power utility Eskom Holdings SOC Ltd. and port and freight rail operator Transnet SOC Ltd. Some of the entities have been at the center of a graft scandal implicating members of the Gupta family who are in business with one of Zuma's sons, and Gordhan will need to ensure they overhaul their management and financial controls. Gordhan, who trained as a pharmacist, headed the national tax agency before serving as finance minister from 2009 to 2014. He was reappointed to the post in 2015, four days after Zuma's decision to replace Nene sparked market upheaval, but was fired and succeeded by Gigaba in March after feuding with his boss. Gordhan continued to serve as a lawmaker and became one of Zuma's most outspoken critics. He takes over his current post from Lynne Brown, who was dropped from the cabinet.
Mineral Resources Minister: Gwede Mantashe

Mantashe served for a decade as the ANC's secretary-general before being elected as party chairman in December. He started his career as a miner, joined the National Union of Mineworkers and rose through its ranks to become its secretary-general. He also became a member of the South African Communist Party, which is in an alliance with the ANC, and served as its chairman until 2012. He's seen as a close ally of Ramaphosa. He succeeds Mosebenzi Zwane, who was omitted from the cabinet.
Energy Minister: Jeff Radebe

Radebe studied law and is South Africa's longest-serving cabinet minister. He's held five portfolios since apartheid ended in 1994: public works, public enterprises, transport, justice and minister in the presidency. He entered the race to become ANC leader in December but failed to secure nomination. He takes over from David Mahlobo, who also lost his ministerial post.
Police Minister: Bheki Cele

A former deputy agriculture minister, Cele played a leading role in Ramaphosa's campaign to win control of the ANC. He was fired as the nation's police chief in 2012, after the graft ombudsman found he had acted unlawfully when he agreed to pay more than three times the market rate for two office leases. He succeeds Fikile Mbalula, who will take on a full-time ANC role.
Minister in the Presidency: Nkosazana Dlamini-Zuma

The former head of the African Union Commission and Zuma's ex-wife, Dlamini-Zuma takes over Radebe's role as head of performance monitoring and evaluation. She narrowly lost the race to become ANC president to Ramaphosa, despite Zuma's backing, and her appointment may be an attempt to maintain party unity. A medical doctor, she served as minister of health, foreign affairs and home affairs before joining the AU.
— With assistance by Amogelang Mbatha
Before it's here, it's on the Bloomberg Terminal.
LEARN MORE