markets
Congo Forces Kill Two Protesters in Anti-Kabila March
By
About 47 people were injured and more than 100 arrested

Marches organized by Catholic activists target president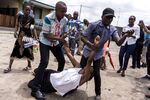 Security forces in the Democratic Republic of Congo killed at least two protesters and injured 47 others participating in anti-government marches around the country on Sunday, the United Nations said.
A group of Catholic activists, the Lay Coordination Committee, organized the protest against  President Joseph Kabila's continuing rule of the central African nation. It was the third rally they've organized since Dec. 31, and all have turned deadly. On Sunday, police and soldiers surrounded places of worship, discouraging attendance and preventing protesters from marching from their churches after services.
Security forces killed one person in the capital, Kinshasa, and another in the western city of Mbandaka, according to the UN statement, while more than 100 were arrested nationwide. Police spokesman Pierrot Mwanamputu told the state-owned television station no one was killed.
Activist and university professor Rossy Mukendi was shot dead in Kinshasa, according to Ida Sawyer, Central Africa director for Human Rights Watch.
"Security forces shot him in the thorax just outside Saint Benoit church in Kinshasa's Lembe neighborhood, as protesters were ready to start the march after Sunday mass," she said. Two others received gun wounds in the Masina district, while two more were badly beaten in the Kingasani district, Sawyer said.
Unauthorized Protests
Kabila, who has led Africa's biggest copper producer since 2001, was to step down at the end of his second term in December 2016 after an election to find his successor. That vote was delayed and Kabila remained in office, sparking protests in which dozens of people were killed by security forces. Congo, which gained independence from Belgium almost six decades ago, has never had a peaceful transfer of power.
In November, the electoral commission published a plan for presidential and parliamentary polls on Dec. 23, 2018, but opposition parties, which back the marches, are split on whether to support or reject the calendar.
They argue Kabila is the main impediment to timely elections and some groups insist he should leave power to make way for a transition period under an interim head of state. The Congolese people "have decided to stand resolutely upright to block the way to the present dictatorship, the first obstacle to free, transparent and peaceful elections," according to a Feb. 10 statement by the Lay Coordination Committee.
Fewer protesters turned out to demonstrate than on New Year's Eve or Jan. 21. On the first occasion, clashes left at least 12 people dead after security forces fired tear gas into churches and live rounds at worshipers preparing to march, according to the Lay Coordination Committee. Congo's police said no one was killed in the suppression of the protest. Three weeks later, the police and army shot dead at least six people, the United Nations said.
Local authorities in Kinshasa have refused to authorize any of the marches.
Kinshasa police chief General Sylvain Kasongo said on Saturday that his objective was zero deaths and he told his forces not to shoot the unarmed civilian population.
(
Corrects location of deaths in first paragraph.
)
Before it's here, it's on the Bloomberg Terminal.
LEARN MORE