politics
Merkel Appoints Conservative Flag-Bearer to New Cabinet
By and
Spahn named as health minister in sop to CDU's right wing

Chancellor doles out her party's posts to placate critics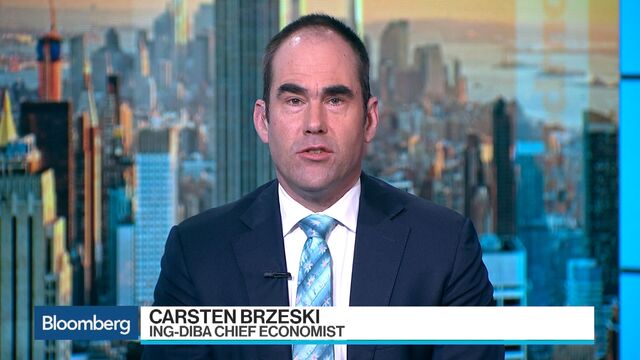 Angela Merkel nominated an up-and-coming conservative to a post in Germany's new cabinet, part of a bid to reassert control of the party by placating critics while still maintaining her centrist approach to policy.
Jens Spahn, the 37-year-old flag bearer for the party's right wing, will become health minister if Merkel succeeds in securing her fourth term. His appointment is the most notable change among the six cabinet-level posts she had to dole out to members of her Christian Democratic Union.
She also heeded party calls for a younger line-up and followed through on a pledge to have an even balance of men and women in the new German government taking shape.
"The not-so-easy task with this personnel roster was to ensure it's directed toward the future and that it has a good mix of experience and new faces," Merkel said at a press conference in Berlin after presenting the candidates to the CDU's top leaders. "I am the only one in this team who's clearly over 60."
Merkel produced a surprise with her nomination as education minister of Anja Karliczek, a Bundestag lawmaker since 2013 who is little-known outside party circles. Leaving the inner circle of German government is longtime ally Hermann Groehe, the current health minister.
The CDU will gather on Monday to approve a coalition agreement with Germany's Social Democrats. The final hurdle to the new government is the SPD's ongoing members's ballot, which is more contentious. The results will be announced March 4.
Here's a look at Merkel's picks:

Health Minister
Spahn, the deputy finance minister, has emerged as a key critic of Merkel's centrism. His support has been galvanized by national conservatives in the CDU especially since the 2015-2016 refugee crisis, with many in the faction opposed to Merkel's initial open-border policy. The debate has involved issues of national identity and conservative values -- ones they believe Merkel has betrayed. 
Economy Minister
Peter Altmaier, 59, a polyglot gourmet cook, has been a steadfast Merkel loyalist, taking on taken some of the toughest jobs for the chancellor. After she fired her environment minister in 2012, Altmaier was called in. For the past four years he's toiled inside the chancellery as Merkel's chief of staff and also oversaw the refugee crisis. That didn't stop Merkel from tasking him with writing the CDU's party manifesto in last year's election. In recent months, he's also served as acting Finance Minister.
Defense Minister
Ursula von der Leyen, 59, the CDU stalwart and Merkel ally since her first government in 2005, hung on to her job despite heavy criticism. Long considered a potential successor to Merkel, her star has faded of late. The trained doctor and mother of seven has failed to make inroads with the party's conservative old guard -- and drawn criticism over her stewardship of Germany's military. A parliamentary report this week drew a scathing picture of under-equipped parts of the armed forces.
Agriculture Minister 
Julia Kloeckner, 45, the CDU leader in the western state of Rhineland-Palatinate, has sought a national profile since losing the state election to the Social Democrats in 2016. She's usually a reliable ally, but tested the anti-Merkel waters during the refugee crisis with a few critical shots at the chancellor's open-border stance.
Chief of Staff
Helge Braun, 45, an inside operator in the CDU, gained Merkel's trust during the refugee crisis. The former doctor will take the high pressure job of coordinating the work of government and oversee the upgrade of Germany's digital economy.
Education Minister
Karliczek, 46, chief whip for the CDU in the Bundestag, is a surprise addition to Merkel's cabinet. The mother of three and former hotel manager was previously an unheralded lawmaker without a notable national profile. She represents a district in North Rhine-Westphalia and serves on the finance committee. Her nomination makes for an even balance between men and women in Merkel's nominations.
Before it's here, it's on the Bloomberg Terminal.
LEARN MORE