Media Sites That Don't Purge Bots Should Be Fined, Senator Says
By and
Klobuchar thinks social media must invest more on prevention

Democrat sponsoring bill requiring social media ad disclosure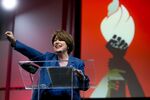 Social media giants Facebook Inc. and Twitter Inc. should be fined if they don't weed out automated accounts, or bots, trying to influence U.S. public opinion, said Democratic Senator Amy Klobuchar.
"I think that would be a great idea," Klobuchar, of Minnesota, said on NBC's "Meet the Press" on Sunday when asked whether the companies should face fines if they fail to act after the government discovers the bots.
The comments come after the Justice Department on Feb. 16 indicted Russians associated with the Internet Research Agency, a Russian organization it said "had a strategic goal to sow discord in the U.S. political system" including during the 2016 presidential election. The organization conducted operations on YouTube Inc., a unit of Google Inc., Facebook and its subsidiary Instagram, and Twitter, according to the indictment.
Even though Klobuchar said fining the social media companies is desirable, she was skeptical it would happen. "You need a Congress to act, and there are too many people that are afraid of doing something about this because we know these sites are popular,"' she said.
Klobuchar, a member of the Senate Judiciary Committee and top Democrat on a subcommittee that deals with antitrust and consumer rights issues, has introduced bipartisan legislation that would require social media companies to disclose who is paying for online adds.
'Sophisticated Companies'
"These are the most sophisticated companies in America," Klobuchar said. "They have brilliant people working there. I believe that they've got to put more resources -- maybe it means they make less profits off of ads and other things -- but they've got to put the resources into Facebook and Twitter to stop these bots from dominating the accounts."
Asked to respond, Facebook spokesman Andrew Stone on Sunday referred to November Congressional testimony by the company's general counsel detailing efforts to curb millions of bots and citing improvements. Twitter spokeswoman Emily Horne had no immediate comment.
Washington is increasingly pressuring social media companies because of Russian attempts to meddle in the 2016 presidential election through posts on their sites -- even as Congress is also looking into online sex trafficking and drug sales. Members of a U.K. Parliamentary inquiry also suggested it might be time for regulation during a hearing with the companies in Washington on Feb. 8.
Before it's here, it's on the Bloomberg Terminal.
LEARN MORE