climate-changed
Pruitt Vows to Repeal 'Prohibition' on U.S. Energy Resources
By
EPA chief praises Trump for rejecting Paris agreement

Agency has been overturning Obama rules on climate and water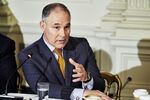 The Obama administration effectively imposed "Prohibition" on U.S. energy and natural resources development through policies meant to address climate change and water protection, Environmental Protection Agency Administrator Scott Pruitt said on Friday night.
It was not the first time Pruitt has likened the previous administration's agency to the U.S. attempt to ban alcohol in the 1920s and early 1930s, but he has upped the frequency with which he mentions it in recent days and weeks.
Attendees of the Conservative Political Action Conference, in Oxon Hill, Maryland, cheered the remark and other slogans that have become standard in Pruitt's public comments. Those include maligning his predecessors for their "fifth-grade civics" and making the agency "weaponized against certain sectors of our economy."
Like other conference speakers over the course of the day, Pruitt lauded President Donald Trump's rejection of the Paris agreement on climate change, citing what he characterized as unequal responsibilities for the U.S., China and India.
"The Paris accord was never about" carbon dioxide reduction, he said.
During a question-and-answer session, Pruitt repeated statements about U.S. greenhouse gas emissions that have been challenged.
He exaggerated a decline in American carbon dioxide emissions. Emissions related to energy have fallen because of better efficiency, the rise of natural gas, markets abandoning coal, and a dramatic but still limited rise in renewable energy. Pruitt said that U.S. emissions fell almost 20 percent from 2000-2014. Energy-related emissions fell 7.5 percent in that period, and, through 2016, 12 percent, according to the U.S. Energy Information Administration.
Core Mission
Pruitt has described his tenure as a return to EPA's core mission. He said the U.S. was reorienting its approach to safeguarding air and water by letting states play a bigger role, focusing on cleaning up toxic waste sites and regulating hazardous chemicals -- instead of aggressively trying to combat climate change.
Pruitt has drawn some fire recently for his reliance on first-class flights when he travels, a decision EPA officials say was necessary to keep the administrator safe amid threats and vulgar encounters with the public.
— With assistance by Jennifer A Dlouhy
Before it's here, it's on the Bloomberg Terminal.
LEARN MORE