politics
Maryland, D.C. Seek to Add Trump as Individual in Emolument Suit
By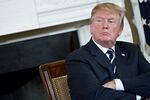 Maryland and the District of Columbia filed a motion to revise their emoluments lawsuit against President Donald Trump to name him in his individual capacity.
The attorneys general of Maryland and D.C. sued Trump in his official capacity in June, saying his continued financial stake in his global business empire violates the U.S. Constitution's limits on profiting from his office
The complaint says Trump is violating two provisions of the U.S. Constitution, one barring compensation from foreign governments without congressional approval and the other banning payments from federal and state governments
U.S. District Judge Peter Messitte, a 1993 Bill Clinton appointee, suggested during almost five hours of arguments last month that the AGs consider amending their complaint to cover their bases
The case is District of Columbia v. Trump, 17-cv-1596, U.S. District Court, District of Maryland (Greenbelt).
Before it's here, it's on the Bloomberg Terminal.
LEARN MORE