business
Vitamin Maker DSM Reaps Soaring Sales From a Turn to Retail
By
I-Health is expected to turn over 275 million euros in sales

Company plans to extend supplement range into European market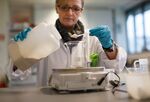 Dutch vitamin maker Royal DSM NV is finding direct-to-consumer sales good for its corporate health.
After years of supplying ingredients to health-food companies, DSM began dabbling with its own range of supplements to sell at retail about six years ago. The growth of the business, called I-Health, far exceeded the company's hopes, and it's set to turn over about 275 million euros ($338 million) in sales in 2018, according to Chief Executive Officer Feike Sijbesma.
The CEO said he was initially wary of entering the retail space in competition to existing customers like Nature's Bounty that buy industrial quantities of its ingredients for their formulas. Rather than create tension, DSM's gusto for marketing and support of a $40 million promotional campaign meant existing players welcomed its probiotic gut-health product Culturelle and other brands, Sijbesma said.
I-Health's success will be an added bonus to Sijbesma as he prepares a strategy update to present to investors midyear. After a decade in charge, he's transformed the company via asset sales and purchases, building a global nutrition business that sits alongside a performance-plastics division.
'Very Happy'
DSM acquired the origins of I-Health -- which includes menopause-relief supplement Estroven -- in 2011 via the takeover of infant-formula maker Martek for almost $1 billion. Martek specialized in high-purity fatty acids derived from algae, but had been experimenting with packaging its own health-food ingredients.
"It was just a small business and initially we didn't know what to do with it, whether to keep or it or not," Sijbesma said. "But as we looked more closely, we thought it could be interesting. Now we're very happy with it and want to grow it."
Seven years later, with growth running at more than 10 percent a year and products on the shelves of stores like Walmart Inc., the business is ready to emerge from the shadows. I-Health has expanded beyond the U.S. to China and other Asian countries, and Europe will be the next target area, Sijbesma said. Using some of DSM's own ingredients and vitamins means bolstering margins.
For western chemical companies -- which these days have more to do with specialized ingredients than the commodities that formed their foundations -- creating a consumer-facing brand is a challenge. Their products are crucial in cars, wind-turbine blades and other high-performance applications, yet remain behind the scenes.
DSM's superstrength fiber Dyneema is a well known in the markets for ropes and yacht sails, and it's weaving its way into consumer goods like motorcycling jeans, yet entering a full-blown consumer market was a learning curve for managers, Sijbesma said.
"The money spent on branding and TV ads was new for us, different to what's spent in the B2B market, so you can imagine in the beginning it was a bit difficult for us," the CEO said. "But we didn't want to disturb them too much in the beginning. Otherwise we would have had a B2B mindset running a B2C business, which is not a good thing."
Before it's here, it's on the Bloomberg Terminal.
LEARN MORE