politics
Trump Predicts 'Very Rough' Phase If North Korea Sanctions Fail
By and
Issues new sanctions targeting shipping and trading companies

Sanctions aimed at pressuring Kim Jong Un's nuclear program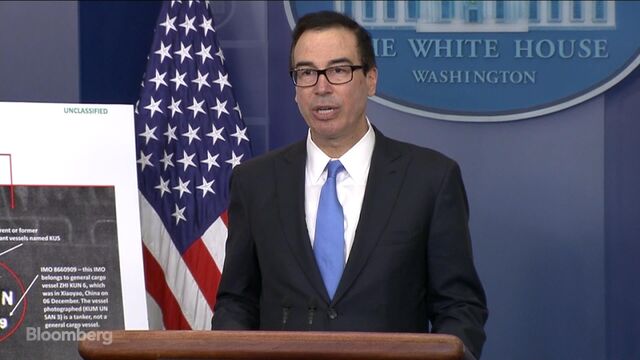 President Donald Trump said Friday it may be "very, very unfortunate" for the world if U.S. sanctions fail to stop North Korea's nuclear weapons program, as he imposed the largest U.S. penalties package yet against the rogue regime.
"Phase 2 might be a very rough thing," if the sanctions don't succeed, Trump added at a joint press conference Friday with Australian Prime Minister Malcolm Turnbull. "If we can make a deal it will be a great thing and if we can't, something will have to happen. So we'll see."
The new sanctions, which Trump announced earlier in the day at a meeting of conservatives near Washington, aim to disrupt shipping and trading companies and vessels that deal with North Korea in an effort to further isolate Kim Jong Un's regime.

"We imposed today the heaviest sanctions ever imposed on a country before," Trump told the gathering. "And frankly, hopefully, something positive can happen."
Read more: All about North Korea's nuclear ambitions
The action targets one individual, 27 entities, and 28 vessels, according to a statement from the Treasury Department. Those vessels may be located, registered or flagged in a number of countries, including North Korea, China, Singapore, Taiwan, Hong Kong and the Marshall Islands.
While the new sanctions focus on international shipping, the administration is also working on a response to the regime's illicit cyber activities, a senior administration official said.
Olympic Games
The latest sanctions send a message of continued U.S. determination as its ally South Korea hosts athletes and officials from North Korea in a show of detente at the Winter Olympics. Ivanka Trump, the president's daughter and adviser, is in South Korea for the closing ceremony of the games. "We cannot have a better, or smarter, person representing our country," Trump said in a tweet on Friday morning.
North Korea already faces the most severe sanctions imposed by the U.S. The additional sanctions follow a year of escalating tensions between the U.S. and North Korea over its ballistic missile testing and nuclear development programs.
Vice President Mike Pence hinted at the new sanctions earlier this month during an Asia trip, promising the administration would bring "maximum pressure" to bear on the Kim government.
Treasury Secretary Steven Mnuchin said in the statement that the new prohibitions will deter North Korea from evading previous sanctions. He said they're being lodged under 2016 and 2017 laws passed by Congress and signed by the president.
— With assistance by Justin Sink, and Margaret Talev
Before it's here, it's on the Bloomberg Terminal.
LEARN MORE