business
Investor in Bribery Case Opens New Attack on Latvian Bank Chief
By , , and
Norvik Bank chairman says governor is spreading false data

Ilmars Rimsevics counters that bankers are out to get him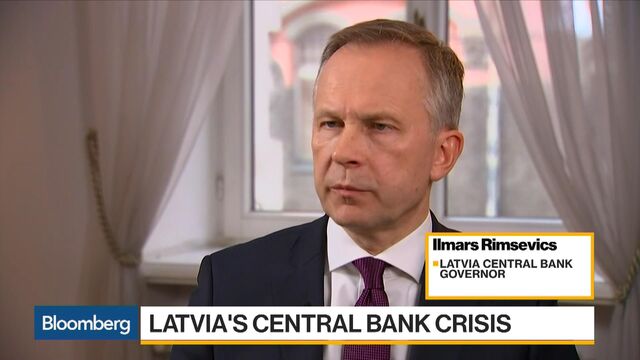 The investor who accused Latvia's central bank chief of corruption has opened a new line of attack as allegations of payoffs and money laundering roil the Baltic nation's financial system.
Grigory Guselnikov, the chairman and majority owner of Riga-based Norvik Banka JSC, said Ilmars Rimsevics, the head of the Bank of Latvia, disparaged his lender in retaliation for alleging the governor sought bribes from him. At a press conference Tuesday, Rimsevics accused Norvik of misleading regulators and suggested it may lose its banking license. Depositors have since pulled more than 43 million euros ($53 million) from Norvik, said Guselnikov.
With a deposit base of 750 million euros, the lender has absorbed the blow and withdrawals have slowed, Guselnikov said. He counter-punched by alleging that Rimsevics broke the law by spreading false information about the bank. He also said he's preparing to submit a lengthy statement to the authorities with evidence to back his claims.
"His obligation is to protect the interests of shareholders and clients of the banks he supervises," Guselnikov said in an interview in London. "Instead, he is starting a scandal and acting in contradiction of his own duties. His aim was to start a bank run at Norvik."
Rimsevics, who has led the central bank in the nation of two million people since 2001 and sits on the European Central Bank's Governing Council, said he had never solicited bribes. He dismissed Guselnikov's latest allegations in an interview with Bloomberg Television on Thursday.
"I have not undermined anybody," said Rimsevics. "It is well known and established fact that the bank has misled the regulator."
Read here for more on Rimsevics's Bloomberg interview
The feud is escalating as a series of legal cases reinforces Latvia's reputation as a haven for illicit finance, and raises uncomfortable questions for the ECB, the ultimate supervisor of the tiny nation's banking system. 
On Feb. 13, the U.S. Treasury Department said Latvia's third-biggest lender, ABLV Bank AS, had "institutionalized money laundering as a pillar of the bank's business practices." The U.S. said ABLV had performed services for a raft of corrupt entities in Russia and Ukraine, as well as firms tied to North Korea's ballistic-missile program. As a result, the department is seeking to bar ABLV from access to the U.S. financial system. The ECB slapped a payment moratorium on the lender after clients began pulling money. ABLV has denied the U.S. charges and said it's drawn up a plan to end the payments freeze.
Norvik itself was sanctioned last year, one of five Latvian banks fined over involvement in attempts to circumvent sanctions on North Korea. Since then, Guselnikov has lured two western security experts to Norvik's board: former NATO Secretary General Anders Fogh Rasmussen and former German foreign intelligence chief August Hanning.
Read here for more on Rimsevics's tenure leading the central bank
Last weekend, Latvia's Corruption Prevention and Combating Bureau detained Rimsevics in connection with a bribery inquiry separate from the Norvik and ABLV cases. The bureau said it was investigating the solicitation of a payoff of at least 100,000 euros. Rimsevics was released on bail and wasn't charged with wrongdoing. "I am not guilty," the governor said at his press conference. He declined to resign.
On Monday, Guselnikov aired his grievances in a report published by the Associated Press. In December, Norvik and Guselnikov filed a complaint against the Republic of Latvia in the International Centre for Settlement of Investment Disputes, an arm of the World Bank that settles conflicts involving member states. 
Here's a QuickTake on why Latvia's banks are in the global spotlight
Latvia's banking regulations are enforced by the Financial and Capital Market Commission and not the central bank. Yet Guselnikov alleges that beginning in 2015, Rimsevics told him that he could prevent the regulator from clamping down on the bank if he would "cooperate." Guselnikov said an associate of the governor's wrote on a piece of paper the sum of "100,000 per month." Guselnikov said he refused and alleges the bank was hit with tougher regulatory measures, including steeper capital requirements, as a result.
"They told me that as long as I don't cooperate, your figures will be higher," said Guselnikov, 41, a Russian-born U.K. citizen.
He also said Rimsevics' associate asked him to launder $100 million for Russians in exchange for a $1 million fee. Rimsevics has said repeatedly Guselnikov's allegations are untrue, and that he doesn't control the banking regulator.
Not a Friend
Clad in a tailored grey suit, Guselnikov fidgeted with a sheaf of legal documents at a conference table at his London office. His phone chimed with texts from Latvia, and he had to jump out of the room for quick calls to allies. He said he has more than 100 million euros at stake in Norvik and conceded that investing in a country where inflows of foreign money have long raised suspicions of money laundering was unwise. "I wasn't so well informed," he said. "I was a naive investor."
In his interview with Bloomberg Television, Rimsevics suggested that bankers had turned on him because he'd directed them to reduce their reliance on foreign deposits and undergo a review by reputable U.S. firms. The moves have taken a toll on the banks, he said.
"I am not a friend of the banking system in this country," said Rimsevics.
Guselnikov rejected the contention that he was working in league with other banks against the governor.
— With assistance by Aaron Eglitis
Before it's here, it's on the Bloomberg Terminal.
LEARN MORE