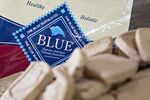 General Mills Inc.'s bark is no longer bigger than its bite.
The cereal giant is going all in on a costly growth strategy, announcing Friday its biggest acquisition in 18 years. It's agreed to buy Blue Buffalo Pet Products Inc. for $8 billion, including debt. As a result of the deal, which will push General Mills' net debt to 4.2 times Ebitda, the company is halting share repurchases. But in exchange, shareholders gain a growth engine in natural pet foods whose revenue jumped 11 percent last year, versus declines at General Mills. 
This will be the ultimate test of whether investors can truly stomach what it takes for an old-line and somewhat tired packaged-food colossus to get its top line going again.
While $8 billion may not seem like much for General Mills, a $31 billion company that generates more than $2 billion of cash each year, it's a big risk. And it's being taken by a fairly new CEO (Jeff Harmening was promoted to the role last June). The takeover valuation equates to more than 5 times the average sales forecast for Blue Buffalo this year and 23 times potential Ebitda -- in other words, General Mills is paying up front for 23 years worth of profit that isn't a sure thing. That puts this deal among the most expensive ever in the packaged-food space, where valuations have shot up amid a dearth of growth opportunities for the industry leaders as consumers increasingly turn to natural, better-for-you options -- or in this case, better-for-dog offerings. 
General Mills, like its newly acquisitive peers, is buying at the top because it has no choice. And it probably wasn't the only one sniffing around Blue Buffalo. J.M. Smucker Co., the jam maker that now gets 30 percent of its revenue from pet-food brands such as Nature's Recipe and Milk-Bone, was considered the most logical suitor. Gadfly's Brooke Sutherland opined on the topic as far back as 2016 when Blue Buffalo's stock was still relatively new to the public market. It's astonishing that the inevitable target stayed independent this long.
Pet food is the only North American food segment that Euromonitor International predicts will expand by more than 2 percent on average over the next five years. This is bringing unlikely entrants to the space. Little over a year ago, Mars Inc., the privately held maker of M&M's, agreed to buy animal-hospital operator VCA for about $9 billion as it shifts its focus away from the difficult U.S. candy market (which Nestle SA is also exiting). Smucker bought Big Heart Pet Brands three years ago for $5.8 billion, from which its balance sheet is still stretched and may be the reason it either opted out or dropped out of the running for Blue Buffalo.
Shares of Blue Buffalo were trading a tick above General Mills' offer before the official market open Friday, but as was the case with Bob Evans Farms last year, I would caution investors to not expect a bidding war at this high a price. General Mills has fallen about 7 percent this year, and word of canceled buybacks may drag it down further Friday.
However, of all the consumer-products companies scrambling to buy growth and better position themselves for today's shopper in a world dominated by Amazon.com Inc., General Mills is the one I have the most faith in. It was a relatively early mover in shifting to the better-for-you space with its 2014 purchase of the Annie's brand, which was also at a steep price. The company said at this week's Consumer Analyst Group of New York conference that it's increased Annie's distribution by 80 percent since then. With Blue Buffalo, it gains a strong e-commerce presence that will need to be protected as competition heats up, while also being tasked with getting the brand better placement in mass retailers. 
CEO Harmening only had so much room on the balance sheet to accommodate a major deal. He picked a good one, but it's still priced to perfection.
Before it's here, it's on the Bloomberg Terminal.
LEARN MORE