Vintage Watches
Elvis Presley's Diamond-Set Watch Is Coming to Auction
An Omega fit for the King
By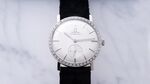 Originally published by Stephen Pulvirent on Hodinkee.
There are few pop culture figures that loom larger over the 20th century than Elvis Presley. From shrieking teenagers to pearl-clutching mothers, the King had an outsized impact on midcentury America and the world at large. In February 1961, his label RCA Records arranged a charity event to celebrate his groundbreaking milestone of selling 75 million records, something no previous artist is thought to have done (though it's tough to say for certain because of how sales records were kept at the time). At the event, Elvis was presented with a commemorative plaque and a very special Omega watch. While the plaque remains at Graceland in Memphis, Tennessee, the diamond-set, Tiffany dial Omega is hitting the auction block in May at the next Phillips sale in Geneva.

The watch itself is an 18k white gold Omega with just three hands and applied stick markers, though a bezel set with 44 brilliant cut diamonds adds some sparkle to the mix. Underneath the Omega logo at 12 o'clock, you'll find an additional printed signature from Tiffany & Co., which is where the RCA executives chose to purchase this watch for Elvis. Amplifying the American connection, the caliber 510 movement is properly stamped with the "OXG" import marks and the case was made in Long Island City, New York, by the Jonell Watch Case Company.

The back of the watch has a charming "18K GOLD" engraving between the top two lugs, and an additional commemorative engraving that reads: "To Elvis / 75 Million Records / RCA Victor / 12-25-60." While the ceremony at which he was presented with the watch took place in February 1961, Christmas 1960 was thought to be the date when his sales actually crossed the all-important threshold. To further authenticate the watch, it is accompanied in the sale by a letter of authenticity from the wonderfully-named Jimmy Velvet, founder and CEO of the Elvis Presley Museum. You can also see Elvis wearing the watch in question in a photograph seen in Dave Marsh's 1982 biography Elvis. 

The watch is coming to auction from the nephew of the man who obtained it from Elvis himself. As Phillips tells the story, the man met Elvis, mentioned that he liked the King's watch, and Elvis proposed a trade, swapping his diamond-studded Omega for the man's diamond-studded Hamilton. Elvis is known to have traded and given away multiple watches, which is why they come up for sale from time to time. A pair sold at a memorabilia auction as recently at 2016 and in 2012 Antiquorum sold one of Elvis's Omega Constellations for over $50,000.
In its own announcement of this watch's sale, Phillips offers some additional context to what was going on in Elvis's life and career when this watch was presented, and it makes for an interesting read. 

The Phillips Geneva Watch Auction: Seven will take place on May 12-13 at Hôtel La Réserve in Geneva and the sale's first preview kicks off today in Miami at the Opera Gallery Miami Design District, running through Sunday. Elvis's Omega is one of the highlights of the sale and carries an estimate of CHF 50,000 -100,000.
For more information about this watch and Geneva Watch Auction: Seven, visit Phillips online.
Hodinkee is the preeminent resource for modern and vintage wristwatch enthusiasts. Through in-depth reviews, live reports, and dynamic videos, Hodinkee is bringing watches to a 21st-century audience.
Before it's here, it's on the Bloomberg Terminal.
LEARN MORE