Draghi Laments to ECB at Lack of Latvia Crisis Details
By
Governing Council discussed Rimsevics detention on Wednesday

ECB president has avoided any public comment on Latvia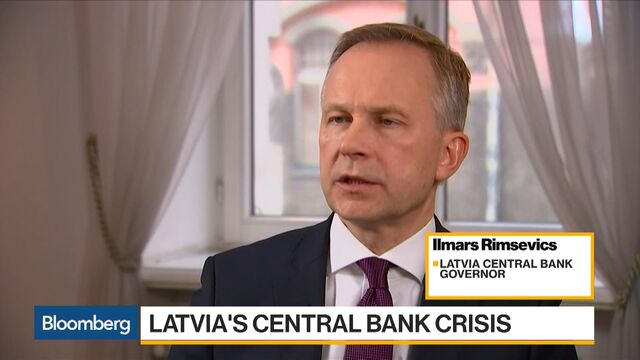 Mario Draghi told colleagues this week that he was dissatisfied at the lack of information received from Latvian officials following the detention of the central-bank governor, according to people familiar with the matter.
The European Central Bank president shared his views with policy makers on Wednesday, said the people, who added that the Governing Council agreed that it needed more clarity to assess such an unprecedented situation. They asked not to be identified because such meetings are confidential.
Read the latest news on Latvia's central-bank crisis
ECB Governing Council member Ilmars Rimsevics was taken in for questioning on bribery allegations by Latvia's anti-corruption authorities a week ago, and then released on bail terms that prevent him from fulfilling his central-bank role. He has rebuffed government calls for him to step aside, at least during the investigation.
Draghi has avoided any public comment on the matter, which remains clouded in mystery. An ECB spokesman said on Thursday that the institution didn't yet have sufficient information to assess the situation.
Latvia's financial system has been hit by multiple scandals in the past couple of weeks. In a separate development, the ECB said early Saturday morning that ABLV Bank AS is failing or likely to fail, handing it over to Europe's Single Resolution Board to be liquidated. The U.S. Treasury Department this month proposed banning the lender from the American financial system, saying it helped process illicit transactions, including for entities with alleged ties to North Korea's ballistic missile program
Europe to Wind Down Latvian Bank Targeted by U.S. Over Sanctions
Latvian Finance Minister Dana Reizniece-Ozola said this week that she had called the ECB president on Wednesday, and that he "will assess whether the ECB independence rules have been broken." They agreed that Latvia's anti-corruption bureau will provide information to the Frankfurt-based central bank on the allegations, she said.
The finance minister said on Friday the transfer of information to the ECB was "still in progress."
A spokesman for the ECB declined to comment. A spokesman for Latvia's anti-corruption body wasn't immediately available for comment outside office hours.
— With assistance by Aaron Eglitis
Before it's here, it's on the Bloomberg Terminal.
LEARN MORE