politics
Trump or Berlusconi? Who Said It?
The populist leaders often sound strikingly similar. Can you tell them apart?
By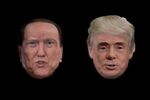 Per leggere questo articolo in italiano, cliccare qui

There are plenty of parallels between Silvio Berlusconi and Donald Trump: both are tycoons-turned-politicians who espouse lower taxes, less government regulation, and tighter controls on immigration; both have frequently boasted about their multiple romantic partners; and both evince a high regard for themselves and Vladimir Putin. Turns out, they also say lots of things that are strikingly similar.
Berlusconi says the two have never met, but on the campaign trail this week he called Trump a "very special person," if a bit too impulsive with his Twitter feed. "You have to say he has two broad shoulders, almost like the ones my mother and my father gave me," Berlusconi said.
With Berlusconi's bloc leading in the latest polls before a blackout in advance of Italy's March 4 elections, it's a good bet we'll be hearing more from him in the coming months. Here's a selection of comments from him and Trump over the years. Can you figure out which one is talking?
— With assistance by Chiara Albanese, John Follain, and Alessandra Migliaccio
Before it's here, it's on the Bloomberg Terminal.
LEARN MORE