politics
Kim Jong Un's 'Lipstick Soldiers' Are Stuck in Time
By and
North Korean cheer squad reminiscent of a bygone era

1980's clothing, singing showcase wide cultural divide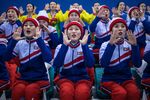 North Korean leader Kim Jong Un's cheering squad mesmerized the 2018 Winter Olympics as his "lipstick soldiers" belted out catchy fight songs and clapped in unison.
But the more than 200 cheerleaders, with their identical croissant hairstyles, funky pink lipsticks and red snowsuits, stood out in another way for many Olympic spectators: The huge cultural gap that would have to be narrowed if and when the two countries reach a peace accord.
"I feel like their make-up and clothes are very old-fashioned, something I expect seeing in 1980s or 1990s and this suggests how much North Korea is culturally lagging behind us," said Jeong Se-rim, 22, a nurse who was at the Gangneung Ice Arena to watch North Korean pair figure skaters. "It is something I would imagine my mom to wear when she was in her twenties."
As the international sanctions over the isolated nation's nuclear tests and missile launches continue to be strengthened, North's economy and culture remains far behind that of its neighbors to the south.
Awkward Moments
In 2016, per capita income in North Korea was less than 5 percent of that in the South, where residents enjoy the world's fastest Internet speeds. A 2015 report from the National Assembly Budget Office estimated that even under a peaceful scenario where Seoul expands humanitarian support ahead of reunification in 2026, it could cost about $2.8 trillion to help bring North Korea's GDP to two-thirds that of South Korea.
Narrowing the cultural gap might be less costly but equally thorny as the divide continues to widen with successive generations separated for more than six decades.

North Korea's "juche," or self-reliance policies have blocked the influx of foreign culture and have led to some awkward moments at the Olympics games. North Korean cheerleaders swayed, clapped, sang their own songs in perfect unison as K-pop boy-band BTS' Blood, Sweat & Tears rocked the stadium.
"While South Koreans just think of their past when they see North Koreans, North Koreans are immensely shocked when they experience the Americanized culture of the South," said Philo Kim, an associate professor at Institute for Peace and Unification Studies at Seoul National University. "There is a huge gap between the culture of North Korea and South Korea."
Underground efforts to bridge that divide has been met with a stern crackdown. K-pop music and Korean TV dramas stored on USB drives are being snuck into the North via black market traders. But a recent crackdown including imprisonment for those possessing such contraband has slowed the spread of South Korean pop culture, according to a recent survey of North Korean defectors conducted by Kim's institute.
In addition to the widening crackdown, Kim Jong Un's regime has been pushing its own version of K-pop: female groups such as Moranbong Band, Pyongyang's answer to South Korean idol groups.

A North Korean defector who came to Seoul recently after studying at a university in the North said ruling party officials enjoy North Korean pop stars while their children secretly listen to K-pop songs.
He recalled the time a classmate was caught in the middle of the night with South Korean content on his hard drive. The classmate, who happened to have a connection with Kim Jong Un's family, got off easy and was moved to a lower grade, according to the defector who asked not to be named as his family is still in North Korea.
"But I couldn't listen to K-pop more than twice as I was afraid of being killed if I had been caught," he said.
— With assistance by Jiyeun Lee
Before it's here, it's on the Bloomberg Terminal.
LEARN MORE