business
Abraaj's Naqvi Cedes Control of Funds Division in Reshuffle
By and
Mideast buyout firm temporarily suspends fresh investments

Lodhi, Yorgancioglu appointed as co-CEOs of funds unit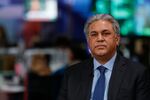 Abraaj Group's founder Arif Naqvi will cede control of the fund management business in what he said was a planned restructuring of the private equity firm accelerated by recent reports of misused funds.
The Middle East's largest buyout company promoted Omar Lodhi and Selcuk Yorgancioglu as co-chief executive officers of Abraaj Investment Management Ltd., which will oversee funds globally for institutional investors, according to a statement Friday. The Dubai-based firm has also stopped making new commitments for its capital until the reorganization is complete, it said.
Naqvi, 57, will remain CEO of Abraaj Holdings and retain a non-executive role on the fund division's investment committee, according to the statement. The Karachi, Pakistan-born executive said on Friday that he'd outlined his plans to transition from his previous role and to separate the asset management from the holding company in a January 2017 staff memo.
Abraaj, which manages about $13.6 billion, announced its reorganization publicly weeks after facing allegations that money in its health-care fund had been misused. The firm this month said a review by KPMG found no wrongdoing, and that all payments and receipts had been properly accounted for and unused capital had been returned to investors.
Abraaj said Friday it has hired independent consultants to review its corporate governance and controls.
Fix Plumbing
The Bill & Melinda Gates Foundation, the World Bank's International Finance Corp. unit, CDC Group and Proparco Group had hired a forensic accountant to examine what happened to some of their money in the health fund, the Wall Street Journal reported Feb. 2, citing people familiar with the matter. Abraaj attributed the discrepancy between the amount of money requested and the amount invested to project delays, the newspaper said.
"The key now is to fix the plumbing and the backbone, and that is what we are really focused on doing right now" for the fund management business, Naqvi said in an interview on Friday at Abraaj's offices at the Dubai International Financial Centre. "This has got to be the right time to create the transitionary moment when we create an entity that is fit for purpose going forward."
Operational Efficiency
The review commissioned by the firm is meant to pave the way for improving operational efficiency, according to the Abraaj statement. The funds division will also have an independent board to oversee internal audits and compliance.
The new structure and management will be "more typical" of a private equity firm, Naqvi said. "This is a separation of the individual from the institution and it is the institution that is going to be in the asset management business."
Founded by Naqvi in Dubai in 2002, the Abraaj Group is one of the largest buyout firms in emerging markets with operations across Africa, Asia, Latin America and Turkey. It bought Aureos Capital in 2012 to expand into Africa and Latin America and acquired a North African private equity fund the previous year from Amundi SA. Only 20 percent of Abraaj's portfolio is now in the Middle East, according to the company.
"Private equity is still in its infancy in emerging markets," said Yorgancioglu, 50, who was previously the Abraaj partner for Turkey. "So there is still huge room for growth: you should expect us to continue growing at the same speed."
Takeover Immediately
Lodhi and Yorgancioglu, who have each been with the company for over a decade, will take on their new responsibilities immediately, Abraaj said.
Abraaj, whose investors include some of the regions biggest sovereign wealth and pension funds, companies and foundations, has been involved in more than 200 deals and exited more than 100 investments since being set up, according to its website. While the Middle East contributed 79 percent of its money in 2002, it declined to 35 percent by 2016 with North America and Europe contributing 45 percent, the firm said.
The under-penetration in sectors such as health, education and fast-moving consumer goods in Abraaj's markets offer an opportunity for profit growth, according to Lodhi, 48. He had previously overseen Asian operations.
"There is a deep bench of people" that have been operating and driving Abraaj's business and "who now are going to do this even more clearly," Naqvi said.
Before it's here, it's on the Bloomberg Terminal.
LEARN MORE