business
Your Evening Briefing
Here are today's top stories
Bloomberg News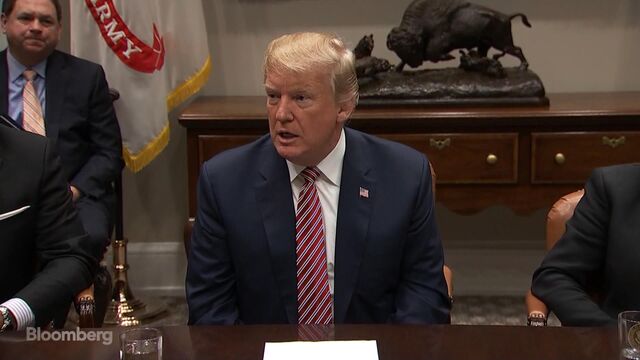 Want to receive this post in your inbox every afternoon? Sign up here.
If the last 18 months has taught us anything, it's that social media is all-powerful. For Snap, the parent of Snapchat, that was driven home by a throwaway comment from a member of America's reality TV royal family. In a single tweet, Kylie Jenner wiped $1.3 billion from the company's market value. When a Kardashian talks, it seems, Wall Street listens.—Katie Robertson
Trump suggests bonuses for gun-trained teachers. President Donald Trump offered a full-throated endorsement of the National Rifle Association just a day after he held an emotional meeting with students and parents affected by recent school massacres. Earlier Thursday morning, he went the furthest he's ever gone on gun control, saying in a tweet he will push for tougher background checks that screen for mental health, raising the minimum age of buyers to 21, and ending the sale of bump stocks. He also proposed "a little bit of a bonus" for teachers who go through training to carry guns in the classroom.  
Teacher retirement funds in 12 states hold gun company shares, including places like Colorado and Florida where students have been gunned down in recent years. Florida teachers are demanding their fund dump stakes in weapons makers after Bloomberg reported the plan invests in the maker of an assault rifle used in the Feb. 14 Parkland high school massacre.
Barclays pays women less than half of what men earn in its investment bank division. The pay gap widens to 79 percent for discretionary bonuses paid to employees at its international unit. Part of the problem? There's a disproportionate number of men in senior positions at the company. Barclays is the first major bank with British operations to disclose the newly required data.
How much do you need to earn to be in the 1 percent? According to the IRS, it's an adjusted gross income—basically, what you make before deductions—of $480,930. The agency's latest Statistics of Income Bulletin shows that the number in that elite group hit about 1.4 million in 2015, continuing its steady growth since 2009. To make it into the top 0.001%, your AGI must be at least $59,380,503. Just 1,412 American households made that much.
Apple is working on AirPod upgrades. The technology giant is planning a new version of the headphones with an upgraded wireless chip for release as soon as this year that will let people summon Apple's digital assistant Siri by voice without physically tapping the headphones. A subsequent model for as early as next year is planned to be water resistant.
Hungry Venezuelan workers are collapsing. So is the oil industry. Starving employees are growing too weak for heavy labor, hobbling the refineries that keep the economy running. With children dying of malnutrition and adults sifting garbage for table scraps, food has become more important than employment, and thousands of Venezuelans are walking off the job.
Americans don't just want SUVs. They need them. Participation numbers are up in all manner of outdoor activities, with almost half of U.S. residents over the age of six now involved in some kind of endeavor, from rock-climbing to kayaking. The smartest automakers saw this shift off the road and with room to spare coming. SUVs are going from an exercise in aesthetics to an instrument of athleisure.
Before it's here, it's on the Bloomberg Terminal.
LEARN MORE