Politics
The Supreme Court Case That Could Devastate Unions
Public sector unions ponder life after mandatory fees.
By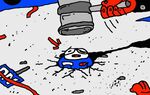 On Feb. 26 the U.S. Supreme Court will consider dealing what would likely be a devastating blow to America's already-struggling labor movement. The issue before the court is whether it's unconstitutional to require government workers to fund unions that represent them. Public sector employees now represent around half of union members in the U.S., and without money from members the organizations wouldn't be able to fund themselves. After decades of declining membership—driven in part by state-level legislative attacks—the fight over mandatory public sector fees represents one of the biggest threats to unions in decades, with potentially catastrophic consequences.
The justices could make all government employment right-to-work if they rule for plaintiff Mark Janus, an Illinois state employee who argues he has a First Amendment right not to pay fees to a union with which he disagrees. That court decision would result in public sector workers being given the choice of whether or not to fund their union. In the private sector, that's already the case in a majority of states. If Janus wins, it would be the law of the land for the public sector in the entire country.
Union leaders are nearly certain the Supreme Court will rule against them when it returns with a decision by summer. They and their supporters are scrambling to prepare for a new right-to-work reality: pushing new avenues to fund their advocacy while mounting campaigns to win back disaffected members. "We have to find ways to ensure—to not take for granted—that the membership sees themselves in what the union is doing," says Randi Weingarten, president of the American Federation of Teachers, one of the biggest public sector unions in the nation with 1.6 million members. "Membership is an act of resistance."
A ruling for Janus would also be bad news for Democrats, who rely on unions for funding and for grass-roots ground troops. "The Democrats have been addicted to union money for a long, long time," says Matt Patterson, who spearheaded anti-union advocacy for Grover Norquist's nonprofit Americans for Tax Reform, and now plans to launch a group that will use ads and door-to-door canvassing to convince union members not to pay dues once the Janus ruling arrives. "When people are allowed a choice in unionization, a lot of times they choose to flee."
Labor activists are racing to stop such an exodus, reaching out to workers who feel disconnected from the union and training pro-union employees to organize their co-workers. "We're doing a lot of praying," says Diann Woodard, president of the American Federation of School Administrators. "But we're also doing what we do best." Which, Woodard says, is conducting outreach, listening to members, and having them remind each other of the benefits of unionization. "It will be members who speak one-on-one to each other who will help to keep us alive."

In 2015, conversations with members led the American Federation of State, County and Municipal Employees to privately estimate that about half of the 1.3 million workers it represents could be "on the fence" about whether to pay dues if mandatory fees disappeared. To avert a massive membership loss, AFSCME has trained 25,000 members who've helped hold one-on-one conversations with 800,000 co-workers about the importance of staying part of the union. "I joke it's our recommitment ceremony, without us having to hold hands," says Elizabeth Goetzinger, a regional government project manager who's president of an AFSCME local in Portland, Ore. In many ways, union leaders realized this was something they should've been doing all along. The response from some workers whom organizers visited, says AFSCME national president Lee Saunders, was, "We haven't talked to you guys in a long time."
Joseph McCartin, a Georgetown University labor historian, says the prospect of right-to-work has sharpened the labor movement's focus. Faced with a "dagger pointed at the heart" of government unions, he says, organizers have taken steps to broaden their support such as using contract fights as opportunities to take on issues like shrinking class sizes in public schools or ending city contracts with banks involved in foreclosures. "Labor for the most part has been a responsive institution—one that responds to crises," he says. "It's not often ahead of the curve."
Some labor groups have shown success at sustaining themselves without mandatory fees. Nevada's 57,000-member casino workers union has a committee of thousands of activist employees that has helped keep the organization's membership rate above 95 percent, despite the state's private sector right-to-work law. Even though mandatory fees are already banned at the U.S. Postal Service, the American Postal Workers Union has sustained membership around 80 percent.
Labor leaders are also studying the example of groups that have scored wins without any formal collective bargaining rights, like the New York Taxi Workers Alliance, or a Communications Workers of America affiliate for public employees in Tennessee. For workers to devote time and money under such circumstances, says CWA's former President Larry Cohen, "they have to own it. They have to feel like, 'This is my organization.' It's not a vending machine where you put your quarter in."
But the bigger picture remains bleak for unions. Right-to-work states' unionization rate is less than half the rest of the country's, and the overall U.S. rate is at a record low of 10.7 percent. The AFL-CIO has already developed contingency plans for a potential loss in funds from public sector right-to-work.
If unions want to buck the trend, they'll need to shed bad habits, like excluding members from important decision-making, approving "two-tier" contracts that treat new employees worse than existing members, and lavishing funds on top officers' compensation that should have been spent on hiring more organizers, says former organizer Alexandra Bradbury, who co-directs the progressive nonprofit Labor Notes. Unions' moral authority has also taken a hit amid recent sexual misconduct scandals that led to the departure of several top officials at the AFL-CIO and the Service Employees International Union.
While unions work to win over ambivalent members, organizers are also exploring ways that liberal state governments can help fund the labor movement. A bill introduced last year in Hawaii, for example, would circumvent the First Amendment issue by having the state directly fund its employees' unions, rather than deducting fees from paychecks. "Collective bargaining and mutual decision-making between the employer and the employee is the modern way of providing public services and needs to be protected," says Hawaii Labor Relations Board Chair Marcus Oshiro, who sponsored that proposal last year because he's expecting unions to take a substantial financial hit once workers can get benefits without being obliged to pay for them.
Others are trying to soften the blow by creating avenues for non-union workers to fund labor advocacy. In New York City, SEIU worked with Democratic council members to draft and pass a bill last year requiring fast-food restaurants to give workers the option to make automatic payroll deductions to nonprofits of their choice. In January, a new pro-labor group called Fast Food Justice announced that it had secured pledges from 1,200 of the city's fast-food workers to contribute $13.50 per month using the new law to fund the organization. When right-to-work curbs the amount of cash that unions themselves can plow into advocacy, models like New York's could help mitigate the impact—if activists can get enough lawmakers and low-wage workers on board, a heavy lift in its own right.
In Massachusetts, SEIU is pushing for a statewide bill that would require all companies to let employees make payroll deductions to the workers' preferred political groups. "This is a more universal and voluntaristic approach to having a labor movement," says SEIU's state political director Harris Gruman. "Maybe small 'l.' "
Proposals such as the ones in Hawaii, New York, and Massachusetts are examples of how the labor movement will have to adapt, says Lily Eskelsen García, president of the National Education Association, the largest U.S. union. "We are not our structures—those are the tools we use," she says. "As they get creative about taking away a tool from us, we will invent new tools."
Before it's here, it's on the Bloomberg Terminal.
LEARN MORE