business
Scam-Hit PNB Banks on Bhushan Sale for Capital Boost
By
Plans to claw back provisions on debt-ridden Bhushan Steel

This cash is said to remove need for any extra govt injection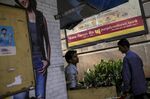 Fraud-hit Punjab National Bank plans to meet capital requirements by writing back provisions after the expected sale of Bhushan Steel, said people familiar with the matter.
The lender has set aside more than the mandated money as provisions on its 49 billion rupee ($754 million) exposure to Bhushan Steel Ltd.'s delinquent account, much of which will be clawed back, the people said, asking not to be identified as the information isn't public. The New Delhi-based bank will also sell some non-core assets, removing any need for the government to increase its 55 billion rupee capital allocation for PNB, they added.
Bhushan Steel has to be sold this year, according to India's bankruptcy laws, though the timing and price is unclear. The disposal could allow PNB to offset for losses that may arise from a $1.8 billion scam it disclosed this month, the extent of which is eight times the lender's net profit for 2017, leaving it vulnerable to a ratings downgrade.
Read: Shame on You Crazy Diamond Bankers. PNB Was No Lone Wolf
The extent of any loss to PNB from the fraud is unclear, as is how much it could get from the sale of Bhushan Steel.

PNB expects 14 billion rupees from the sale of its headquarters in New Delhi and may also pare its stakes in brokerage PNB Gilts Ltd. and PNB Housing Finance Ltd., the people said.
PNB didn't immediately reply to an email seeking comment and Finance Ministry spokesman DS Malik didn't answer a phone call. PNB shares were trading 1.9 percent lower as of 2:25 p.m. in Mumbai on Thursday, compared with a 0.4 percent drop each in the broader Bankex index and the main equity gauge.
Possible Downgrade
Earlier this week, Moody's Investors Service placed under review for downgrade PNB's local and foreign currency deposit rating of Baa3/P-3 and Baa3 foreign currency issuer rating, citing the risk of a weakening of the bank's standalone credit profile due to fraudulent transactions. The transactions represent about 230 basis points of the bank's risk-weighted assets as of 31 December 2017, the rating firm said.
PNB's capital position would deteriorate markedly, and fall below minimum regulatory requirements, if the bank is required to provide for the entire exposure of the fraud. according to Moody's. The lender had an overall capital ratio of 11.6 percent as of Dec. 31 under the Basel III norms.
Read: How a $1.8 Billion Indian Bank Fraud Lasted Seven Years
Goldman Sachs Group Inc. lowered PNB's earnings estimate for 2018 by 30 percent. Potential risk aversion and a greater focus on operational controls after the fraud may hamper growth in the near term, analysts lead by Rahul Jain wrote in a note to clients on Wednesday.
— With assistance by Anto Antony, Abhishek Vishnoi, and Karthikeyan Sundaram
Before it's here, it's on the Bloomberg Terminal.
LEARN MORE