politics
Poland's Message to World in Holocaust Dispute: It's You, Not Us
In an exclusive interview, Prime Minister Mateusz Morawiecki is defiant over his country's new law.
By , , and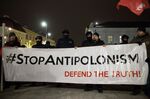 Poland's prime minister defended his country's new Holocaust law and said the international outcry only exposed the rising tide of anti-Polish sentiment that seeks to vilify his compatriots.
In an interview at his office in Warsaw, Mateusz Morawiecki was adamant that nothing will halt his government's efforts to repair the country, including the legislation criminalizing suggestions that Poland was in any way responsible for the genocide. What he termed "anti-Polonism" explains the need for a more assertive policy, he said.
"The situation is worsening from Poland's point of view," Morawiecki, 49, said on Wednesday. "Some people are saying that Poles were worse than Nazis," which is a "complete misrepresentation, complete misunderstanding of the history of what has happened on Polish soil," he said.
The rebuttal of world opinion shows how far Poland's nationalist leadership has come in two years with its quest to defect from the European mainstream. The us-against-them narrative forged by the governing Law & Justice party puts into sharp relief how political forces in Europe's east — from Warsaw to Prague and Budapest — are cementing a new kind of division through the continent almost three decades since the collapse of communism.
While the U.S. under President Donald Trump until now has been supportive of Poland's effort to challenge the European Union, the State Department said the Holocaust law could harm the NATO country's strategic interests.
Morawiecki said it was Trump's predecessor, Barack Obama, who exposed Polish weakness in 2012 when he incorrectly said that death camps built and operated by Nazis on occupied Polish lands were Polish, not German.
The White House apologized, saying Obama misspoke at a ceremony honoring Jan Karski, a Pole who helped tell the world about German plans to kill off European Jews.
"Anti-Polonism around the world has been gaining in power because of a lack of reaction from Poland and the weakness of this reaction for the last 10 years," Morawiecki said. "If the president of the United States is saying things like this, it's for me an alarm that something should be changed."
QuicktakePoland's Nationalist Shift
Until Law & Justice took power in October 2015, the term "Anti-Polonism" was typically used by more radical nationalist groups to depict the country being suppressed by the western powers. It feeds into the party's theme of standing up for ordinary citizens against global elites that's seen it only gain in popularity a little over half way through its first term.
Only 380,000 of Poland's 3 million Jews, Europe's largest prewar Jewish community, survived the Shoah, according to Israel's Yad Vashem Holocaust memorial. While some Polish civilians participated in the genocide, others resisted. Yad Vashem has commemorated about 6,700 Poles for rescuing Jews, the largest number of "Righteous Gentiles" in any country.

Pope John Paul II, formerly a Polish archbishop, became the first sitting pontiff to visit the Auschwitz death camp in the south of the country. In 1979, he stated that "not only those who directly bring about wars are responsible for them, but also those who fail to do all they can to prevent them."
The Holocaust law, pushed through parliament this month in the face of warnings from the U.S. State Department, Israel and Poland's European allies, makes public statements suggesting Polish national or state complicity in the Holocaust a crime punishable by up to three years in jail.
A western-educated former banker in glasses and sharp suit, Morawiecki was handpicked to take over the premiership two months ago by party leader Jaroslaw Kaczynski, Poland's main power broker. He was tasked with improving Poland's external relations as well as engineering a new growth model for the economy.
Read More: Poland's Leader Has a New Plan to Shape the Economy
Instead, he spent much of his recent time trying to quell acrimony over the Holocaust law, though with little success.

The U.S. warned Poland that the new rules censor free speech and may weaken the nation's "strategic interests and relations." The premier inadvertently fanned the outcry last week by listing Jews as "perpetrators" of Nazi-era crimes, along with Germans, Ukrainians, Russians and Poles.
Israeli Prime Minister Benjamin Netanyahu called his comments "outrageous." A campaign led by the Ruderman family foundation on Wednesday called for the U.S. to suspend relations with Poland due to the law.
Speaking a day after one of the country's most senior lawmakers said it's time to back away from the Holocaust law, Morawiecki said the legislation is necessary to defend Poland's honor and image.
Poland needed time to allow the Constitutional Court to vet the new law, which may trigger some revisions, he said.
The judges may say something about "misunderstandings or inappropriate wording or a necessity to clarify some wording" which would then be "very quickly repaired by parliament," Morawiecki said. The prime minister said he hoped the judgment would come "in weeks rather than months, because this would be helpful to alleviate the whole situation."
Before it's here, it's on the Bloomberg Terminal.
LEARN MORE