politics
Mexican Ruling Party Candidate Defends First Months of Campaign
By
Efforts so far have focused on shoring up support in own party

Polls consistently show PRI candidate Meade in third place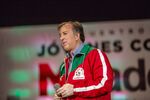 The presidential candidate of Mexico's ruling party defended his strategy in the first months of the campaign, saying he's been focused on consolidating support from members and that attention isn't yet focused on the differences between his plans and those of his opponents.
Jose Antonio Meade, the former finance minister for President Enrique Pena Nieto who left government to pursue the Institutional Revolutionary Party's nomination in November, said he's confident voters will judge him on his own abilities and record. Pena Nieto's popularity has touched record lows for a Mexican leader amid public outrage over insecurity and corruption. Meade said he hears the demands of the Mexican people on those topics, and that he would find solutions.
"We understand the problems, we understand the unease, and we are ready to offer the citizens proposals that make sense," Meade said Wednesday night at a news conference that lasted more than an hour at a campaign office in Mexico City.
Meade is running a distant third with 18 percent support, according to a poll released last week by Mexico City newspaper Reforma, compared with 42 percent for leftist Andres Manuel Lopez Obrador, who's making his third run, and 32 percent for Ricardo Anaya, the candidate of an alliance led by the Nation Action Party. Meade said he expects the differences between himself and his rivals to become more clear after the official start of the general election campaign on March 30.
Meade, 48, a Yale University-educated economist and technocrat, has struggled to shake off the shadow cast by Pena Nieto's government after serving in cabinet positions including foreign minister and social development minister. Anaya, 38, the former head of the PAN, is seeking to capitalize on public exhaustion with the PRI and wariness of Lopez Obrador, 64. The PRI's choice of Meade marks the first time in the party's nine-decade history that it chose a non-member as its candidate.
Despite the newspaper polls, about 63 percent of CEOs and CFOs surveyed by Banco Santander at its Latin America conference last month said they expect Meade to win the July 1 vote, compared with 23 percent for Anaya and 15 percent for Lopez Obrador.
Before it's here, it's on the Bloomberg Terminal.
LEARN MORE