technology
Malone's New Hurdle to Vodafone Deal Is An Angry German CEO
By
Deutsche Telekom CEO Hoettges says tie-up "unacceptable"

Regulators should block deal as it would create monopoly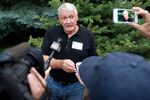 John Malone's plan to sell some of Liberty Global Plc's European cable assets to Vodafone Group Plc just got a powerful new opponent: The CEO of the continent's biggest telecom company.
Deutsche Telekom Chief Executive Officer Tim Hoettges said regulators won't and shouldn't clear the sale of Liberty's German cable unit to Vodafone because such a tie-up would create a "monopoly" in parts of the domestic TV market. The German incumbent carrier would seek to intervene if a deal goes ahead, he said.
"I find this deal totally unacceptable," Hoettges said during an earnings call with analysts on Thursday. "I don't see that this kind of concentration in the cable market can be supported from regulatory bodies."
Deutsche Telekom has the most to fear about a potential sale of Liberty Global's cable businesses on the continent to Vodafone. Buying Unitymedia would double the German cable footprint of Vodafone, which already competes directly with Deutsche Telekom on wireless services.
Vodafone would be picking up some assets previously owned by Germany's former phone monopoly, which was forced more than a decade ago to sell the national cable network by the cartel office and divested it in regional blocks.
The combination in Germany could create a situation like in eastern Europe, where telecom carriers gained political influence by owning TV assets -- a path Germany shouldn't follow, Hoettges said.
Talks between Liberty Global and Vodafone follow years of on-and-off discussions about a tie-up, as they seek to challenge incumbents and offer consumers packages with both fixed and wireless services.
The talks involve Vodafone potentially acquiring continental assets where their footprints overlap, meaning Liberty Global's businesses in Germany, the Czech Republic, Hungary and Romania -- worth an enterprise value of almost $21 billion, according to Bloomberg Intelligence.
Analysts have largely suggested a deal in Germany would win regulatory approval, most likely by European authorities, even if Vodafone ends up having to sell some assets to satisfy competition concerns.
Before it's here, it's on the Bloomberg Terminal.
LEARN MORE