Gates Set for Closed-Door Hearing on Change-of-Lawyer Request
By and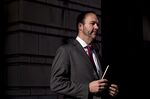 Lawyers for Rick Gates, the former Trump campaign aide indicted in October with Paul Manafort on charges of money laundering and illegal foreign lobbying, will meet again with a judge weighing their request to withdraw from the case.
U.S. District Judge Amy Berman Jackson scheduled a closed-door hearing for Friday morning in Washington federal court on the request by three attorneys to quit.
"Irreconcilable differences have developed with the client which make our effective representation of the client impossible," the attorneys said in a Feb. 1 submission. They didn't elaborate.
The hearing comes amid heightened activity in the case. U.S. Special Counsel Robert Mueller has filed revised charges in the Manafort and Gates case, according to a sealed court filing. It didn't specify the nature of the charges, or whether it expanded the case against either man or added other defendants.
The Los Angeles Times has also reported that Gates agreed to plead guilty and cooperate with Mueller, although no public court filings have surfaced indicating that.
Before it's here, it's on the Bloomberg Terminal.
LEARN MORE