markets
Latvian Central Bank Boss Regrets Not Reporting Bribe 'Hint'
By , , and
Rimsevics reaffirms to Bloomberg TV he was never offered bribe

Case follows U.S. money-laundering claim against Latvia's ABLV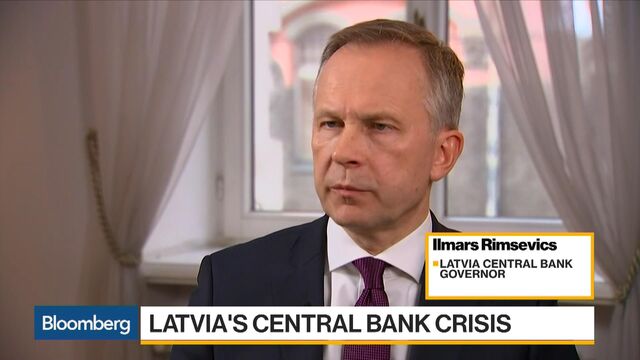 Latvia's central bank chief, freed this week on bail after being detained in a corruption case, said he regrets not reporting the "hint" of a bribe in the past, reiterating that he's never accepted one or been offered one explicitly.
"I've been hinted but these are very thin-ice things and you never know how these things are meant," Governor Ilmars Rimsevics said Thursday in an interview with Bloomberg TV in the capital, Riga. "Usually you think, well, maybe I misunderstood, let's see how the things are developing. If I would know that this thing is going to develop like it has been developing, I regret that I didn't report it.

Rimsevics said again that he won't step down -- even on a temporary basis, because the case may take years to conclude -- and is searching for ways to maintain his role on the European Central Bank's board. He called himself no "friend" of Latvian banks and implied that his efforts in recent years to ensure their financial health and transparency were linked to his current predicament.
The storm around Rimsevics, who was detained last weekend, has rattled the country of 2 million people, a popular destination for cash from the former Soviet Union. It's not the only scandal affecting it: the U.S. Treasury Department has proposed banning ABLV Bank AS, Latvia's No. 3 lender, from the American financial system, accusing it of institutionalized money laundering and aiding entities linked to North Korea's missile program.
Latvian officials have urged Rimsevics, who hasn't been formally charged, to step aside to protect the nation's reputation. The 52-year-old has led the central bank since 2001, making him the longest-serving head of a national bank on the ECB's Governing Council, which he joined in 2014 when Latvia adopted the euro.
Click here for more on what's rattling Latvia's banking industry
"Once you step down, you step down -- and that's it," Rimsevics said. "I had a conversation with members of the board of the ECB, not Mario Draghi personally," he said. "At the moment there are possibilities, they're looking into the text so that I could go to Frankfurt and continue work as a Governing Council member."
Riga-based Norvik Banka JSC, controlled by Russian-born Grigory Guselnikov, has leveled separate bribery allegations against Rimsevics. The lender was also penalized over the North Korea violations, agreeing in July 2017 to pay a fine of 1.3 million euros ($1.67 million).
The Corruption Prevention and Combating Bureau, which detained Rimsevics, said its inquiry doesn't relate to Norvik or any bank currently operating in Latvia. The Defense Ministry has suggested Russia may be behind a disinformation campaign aimed at eroding public trust before elections in October in the member of the European Union, euro area and NATO.
"I believe I'm not a friend of the banks and the things that have been done have been prepared already for several years," he said. "They're going after me, looking for my mistakes, wherever I could be blamed, smaller things."
Before it's here, it's on the Bloomberg Terminal.
LEARN MORE