business
Century Aluminum Ready to Fire Up Plants When Trump Picks Tariff
By
CEO expects to bring back 150,000 tons capacity, 350 jobs

Bless calls for quick action to avoid a flood of shipments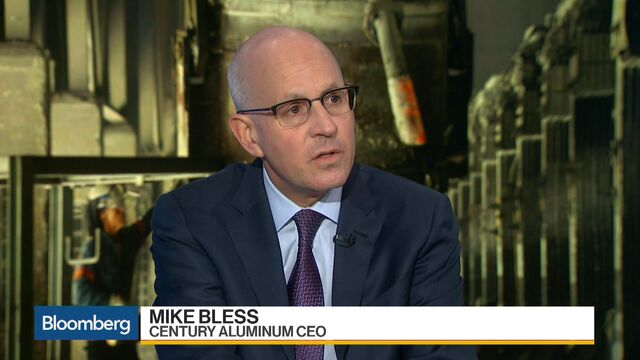 Whatever action the Trump administration decides to take to restrict aluminum imports, Century Aluminum Co. expects smelting capacity and jobs to begin coming back almost immediately.
Whether President Donald Trump opts for one of the recommendations outlined by the Commerce Department last week or chooses his own mix of tariffs and quotas, Century will be able to bring back 350 jobs and 150,000 metric tons of annual production, Chief Executive Officer Mike Bless said.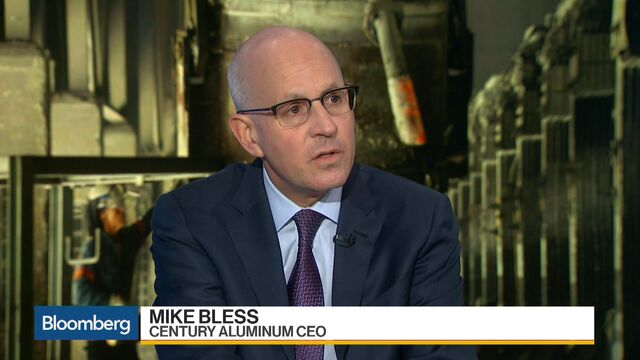 Within a week or two of a remedy coming out, Chicago-based Century will start bringing online one of three idled pot-lines at its Hawesville, Kentucky, smelter, with all three back up and running fully about nine months after that, he said.
"The difference now is that we hadn't seen the Commerce Secretary's report, and now we know that, a, they've found the same harm we felt was obvious, and b, their objective is to increase domestic capacity," Bless said in a telephone interview.
On Friday, Commerce Secretary Wilbur Ross revealed his recommendations that the U.S. impose tariffs or quotas on imports of aluminum on grounds of national security. Ross proposed three routes: a tariff of at least 7.7 percent on all imports from all countries; a 23.6 percent tariff on all products from China, Hong Kong, Russia, Venezuela and Vietnam, while other nations would be subject to a quota of 100 percent of their 2017 exports; or a quota on all imports from all countries equal to 86.7 percent of their 2017 exports.
Canada Pass
On the day of the announcement, Century shares rose as much as 11 percent, top U.S. producer Alcoa Corp. gained 5.5 percent and aluminum on the London Metal Exchange rose as much as 2.4 percent.
Bless said its Mt. Holly smelter in South Carolina would remain constrained to 50 percent of capacity due to ongoing issues with power agreements.
While Commerce didn't suggest any exemptions, the president has the final say in the decision. Bless said Canada, the biggest exporter of aluminum to the U.S., would be an obvious ally to receive an exemption. Still, it would be important to counterbalance that with higher tariffs or lower quotas on other nations to avoid transshipment of metal through the country, he said.
Bless urged Trump to implement duties as soon as possible to avoid about 500,000 tons of metal from European and Asian ports potentially being pushed in to the U.S. ahead of any tariffs or quotas being introduced.
"If there's half a million tons sitting in Europe and Asia that reaches shore before a remedy is in place, that's a hill you have to climb over before you see U.S. capacity being effective," Bless said. "I know it sounds a little hysterical, but people will do what it takes to get it here ahead of remedies being ordered."
Before it's here, it's on the Bloomberg Terminal.
LEARN MORE