politics
Berlusconi Says Trump Scares Him Tweeting About North Korea
By
Former Italian premier says U.S. leader should weigh responses

Advisers can help in dealing with provocation, Berlusconi says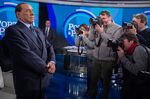 Silvio Berlusconi says he wishes Donald Trump would count to 10 before firing off tweets to North Korean leader Kim Jong Un.
"I'm frightened because when the dictator of North Korea says ugly things about Trump, he gets angry and takes the mobile phone and tweets," former Italian premier Berlusconi, whose style is often compared to Trump's, said at an election rally in Fermo, central Italy, Thursday, according to newswire Ansa. "Replying is sometimes like putting the s--- in the fan."

Berlusconi, 81, said that when he was in office he would never respond to provocation immediately and instead would huddle with his best advisers to compose a more measured reply.
"I haven't yet managed to talk to Trump, who is a very special person," Berlusconi said. "They all attack him, he's like an alien with respect to the bureaucracy of Washington and the Republican Party but you have to say he has two broad shoulders, almost like the ones my mother and my father gave me, he puts up with everything without batting an eyelid."
Berlusconi, who is banned from holding office until next year because of a 2013 tax fraud conviction, heads a four-party alliance that was leading in the final polls before a Feb. 17 blackout. That could give Berlusconi a key role in choosing the next premier after the March 4 vote.
Read More: Follow the Trump Administration's Every Move
Before it's here, it's on the Bloomberg Terminal.
LEARN MORE