Barclays Sees Turnaround Gathering Momentum as Dividend Boosted
By
Quarterly trading revenue down 18% versus 25% industry average

Staley may consider the bank's first buybacks in 20 years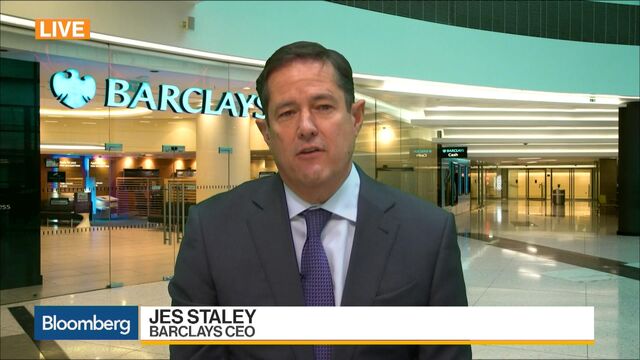 While Barclays Plc's messy 2017 ended on a mixed note, Jes Staley sees better things to come.
The lender said it will return its dividend to previous levels, while considering stock buybacks for the first time in more than 20 years, as its capital buffer rose in excess of its target. Revenue from its markets unit, which trades stocks, bonds and currencies, also fell less than expected and that of its Wall Street peers.
"We are pleased with the start to the year, and in particular in the markets businesses," where "income is tracking above the level for the corresponding period in 2017," Staley, the London-based bank's chief executive officer, said in its earnings statement earlier Thursday.
The shares surged. After three previous quarters of disappointing results, the fourth-quarter figures and 2018 trends are a welcome relief for the CEO, who has staked his reputation on turning around the securities unit. Even after years of restructuring, it's still the firm's worst-performing division and has been losing market share to rivals.
Barclays stock rose 5 percent to 212.35 pence at 12:43 p.m. in London, touching a nine-month high. Before the results, it had dropped 13 percent since Staley took over in December 2015, compared with an 18 percent gain by the U.K.'s FTSE 100 bank index.
"Guidance on dividends and buybacks will be welcomed, although investors will continue to be skeptical regarding the capability of the investment bank to deliver," said John Cronin, an analyst at Goodbody. He expects management to be bullish about the "ability for investment bank to achieve acceptable returns, now that volatility is re-emerging in markets."
New Probe
Barclays is still paying penalties for its past sins, taking another 240 million-pound ($333 million) charge for litigation related to foreign-exchange manipulation. Staley has also embroiled himself in a scandal over whistle-blowing last year, and the bank has been charged with fraud by U.K. regulators. The firm also revealed the U.K. Financial Conduct Authority started a new enforcement investigation this month into how the firm treated customers in default or arrears.
Pretax profit, excluding litigation costs, rose slightly to 334 million pounds in the fourth quarter, missing the average 570-million-pound average estimate of 14 analysts compiled by the bank. Income from trading fell 18 percent. However, that beat a decline estimated by UBS Group AG and the average 25 percent drop in markets revenue posted by Wall Street firms.
"Hopefully our shareholders will take comfort from the fact that we are going to increase our dividend as planned in 2018, a significant amount," Staley said in an interview on Bloomberg Television.
The bank's dividend boost, which will restore the payout that Staley cut in half in March 2016, is a sign executives are confident the bank's slimmed-down balance sheet has enough capital to survive another crisis and pay its remaining misconduct fines. Staley had slashed the payout to absorb losses from an accelerated run-down of a unit that housed toxic or unwanted assets.
Finance Director Tushar Morzaria said Barclays also took a 127 million-pound charge related to Carillion Plc, the U.K. construction company that collapsed earlier this year. That helped push the corporate and investment bank to a pretax loss of 252 million pounds overall.
Bonus Pool
The bonus pool across the firm fell 2 percent to 1.5 billion pounds for the year. For the front office of the corporate and investment bank, the pool fell 1.2 percent to 864 million pounds, a far slower pace than the 22 percent drop in annual profit at the securities unit.
Read More: Barclays Warns Half Its Bankers Are at Risk of Pay Cuts
Compensating the best-performing traders and deal makers while culling others is part of Staley's plan to build a bulge-bracket investment bank capable of competing with the biggest players on Wall Street.
— With assistance by Anna Edwards, and Donal Griffin
Quotes from this Article
Before it's here, it's on the Bloomberg Terminal.
LEARN MORE