business
Barclays CEO Gets Half His Bonus as Whistle-Blower Affair Hovers
By
Staley was awarded 48.5% of his maximum annual incentive

Barclays says bonus pool for bankers slightly down in 2017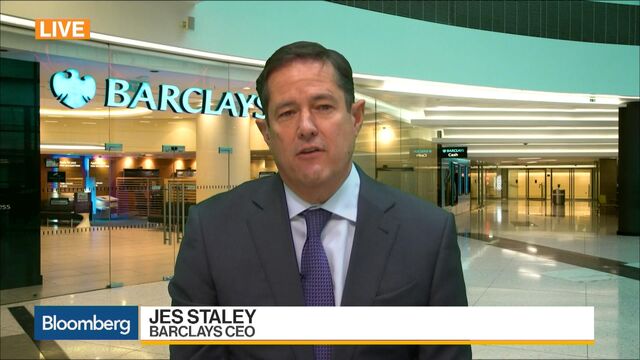 Barclays Plc Chief Executive Officer Jes Staley received less than half his potential bonus as the whistle-blowing scandal casts a shadow on his tenure.
He received a bonus of about 1.07 million pounds ($1.5 million), giving him a total pay package worth about 3.87 million pounds , according to the London-based bank's annual report. The bank also separately disclosed Thursday, its discretionary awards for investment bankers and traders fell slightly to 864 million pounds.
Barclays pay committee will keep Staley's 2016 "variable remuneration under review pending the outcome of the investigation relating to his involvement in a whistle-blowing matter," it said. Other factors that impacted the payout included financial targets which have "still some way to go." The bank will make a final decision once the outcome of the Financial Conduct Authority investigation is complete.
The CEO is facing a U.K. regulatory probe for attempting to ferret out the identity of a whistle-blower. The FCA decision has been pushed back a second time in December and it's now expected to be concluded this year.
The lender earlier posted a pretax profit, excluding litigation costs, of 334 million pounds, missing the average 570-million-pound average estimate of 14 analysts compiled by the bank. The investment bank's income from dealing stocks, bonds and currencies fell 18 percent, the lender said.
Barclays has been sharpening divisions in bonuses this year, boosting pay for top performers while cutting it for those in the bottom half, people familiar with the decision said last November. The lender has eliminated as many as 100 senior staff at its investment bank as the unit's chief, Tim Throsby, overhauls the underperforming division, Bloomberg News reported in January.
Before it's here, it's on the Bloomberg Terminal.
LEARN MORE