Film
'Black Panther' Reveals Black Audiences' Box Office Superpower
Jeff Green, Jordyn Holman and Anousha Sakoui
Major African-American cities outpaced U.S. in record debut

Black audiences have clamored for more representation in film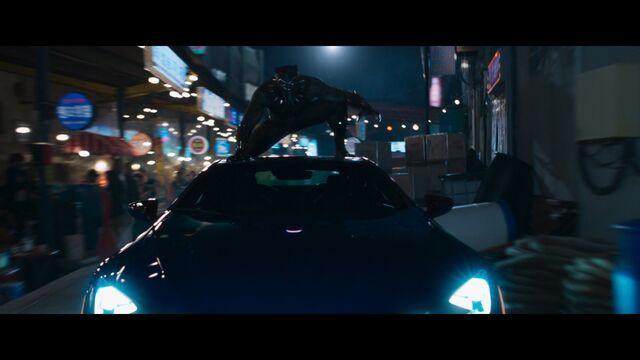 It's been clear for months that black audiences would show up for "Black Panther," the first big superhero movie with a predominantly black cast. The weekend put a finer point on that enthusiasm, with $242 million in domestic box-office sales buoyed by African American audiences, especially in major black cities.
Theater revenue was up 56 percent over the weekend average in Atlanta, 31 percent in Washington and 81 percent in Memphis, according to Walt Disney Co., which distributed the film from its Marvel Studios division. The numbers are especially remarkable considering that people of color also probably traveled farther to see the film -- many more than once -- because historically, there are fewer theaters in predominantly African American neighborhoods.
For theaters suffering 25-year attendance lows, "Black Panther" is a shot in the arm. "For us it was one of the biggest movie openings for sure," said Ahmed Anwar, who runs the historic Kent Theater in Brooklyn with his wife. "Everybody had a very positive reaction toward the movie and enjoyed it very much."

"Black Panther" is the latest and biggest in a series of recent hits that feature black actors in major roles, like "Hidden Figures" and "Get Out." People of color make up a disproportionate number of what the Motion Picture Association of America calls "frequent moviegoers" -- people who go to the movies once a month or more. Among African Americans in particular, the number of frequent moviegoers is up 27 percent since 2012. (That number is down 21 percent among white audiences.)
"What's unique about "Black Panther" is that it is a tentpole film," said Darnell Hunt, a professor and dean of social sciences in the sociology department at the University of California, Los Angeles. "It's your classic superhero, big-budget, big box-office film. Until this point, you would never see a film like that with a black lead and a majority black cast."
Claiming Wakanda
That's made "Black Panther" a cultural touchstone among African-American audiences, who for years have lobbied Hollywood for more diverse films. A YouGov.com survey, for instance, found that about three-quarters of black respondents planned to see the movie, compared with less than half of whites.
"Everyone is claiming Wakanda," Vanessa Kelly, a spokeswoman for the Urban League of Greater Atlanta's guild group, said of the film's fictional kingdom. Kelly attended a Feb. 15 screening with about 150 of the organization's members, many in West African-inspired prints or dressed all in black like the title character. "We're all just claiming Wakanda as a universal country. There was so much pride over the representation of seeing our culture on screen."
As of 2015, people of color bought a majority of the tickets for about half of the top 10 films, said Hunt, who produces an annual report on African Americans in Hollywood. And the demand for representation has material consequences: movies that feature people of color in 20 percent to 40 percent of roles do better at the box office, according to Hunt, whose latest study is due out this month. Many moviegoers say they've already gone back to the theaters to relive the story, fueling even more sales for Marvel's film. Kelly in Atlanta knows people who have watched "Black Panther" three times.
In Brooklyn, Anwar played "Black Panther" on the biggest of his three screens over the weekend. The Kent is the closest theater to several majority black neighborhoods, according to a Bloomberg analysis of U.S. census data and a list of more than 5,000 theaters from data provider InfoUSA.
After the opening weekend, experts say they'll be watching for signs of extended success, especially in majority white areas and parts of the country with a history of racial intolerance.
"If the movie does awesome everywhere, this is good news," said Ricard Gil, an associate professor at John Hopkins University Carey School of Business, who has studied the movie industry during the Jim Crow era. "If 'Captain America' does well in one location, there's no reason 'Black Panther' shouldn't do well in that location. Those are the same types of movies."
Bigger Precedent
Longer term, movies like "Hidden Figures" may be the more important precedent for studios and audiences, said Mia Mask, a professor of theater at Vassar College who teaches classes on black movies and history. As recently as 2015, critically acclaimed dramas including "Fruitvale Station," "Precious" and "Middle of Nowhere" struggled to reach audiences, she said.
"We want to make sure that African-American themed films and blockbuster films that have a predominantly black cast do well," said Mask. "However, that argument relies so much on these individual blockbuster films, these rare opportunities, to carry the significance of black film and confirm the commercial viability of black films to studios."
Disney's next big-budget bet on diversity comes next month with the release of "A Wrinkle in Time," directed by Ava DuVernay. Based on the 1962 book by Madeleine L'Engle, it follows the quest of a young girl through space and time, and features Oprah Winfrey, Mindy Kaling and Reese Witherspoon. It opens on March 9.
— With assistance by Kevin Varley
Before it's here, it's on the Bloomberg Terminal.
LEARN MORE