politics
Venezuela's Opposition Alliance Rejects 'Fraudulent' Elections
By
Coalition says it will only participate with better conditions

Maduro proposes 'mega-election' to include congressional vote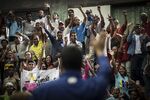 Venezuela's opposition coalition announced it will boycott this year's presidential ballot, saying that in its current form the vote will be neither free nor fair.
The April 22 vote amounts to "only a fraudulent and illegal simulation of a presidential election," Angel Oropeza, the alliance's political coordinator, told reporters in Caracas. "We want to compete in elections -- we are democrats -- but in clean elections."
Without the participation of the Democratic Unity Roundtable, or MUD as it's known by its Spanish acronym, President Nicolas Maduro is set to capture another six-year term, despite widespread criticism the snap vote will lack legitimacy. Still, the ruling socialists have not been swayed by international outcry or even threats of additional sanctions, and are now considering bringing forward National Assembly elections, cutting the current congressional term short by two years.
'Fortify' Democracy
On Wednesday, Maduro doubled-down on previous calls form within his own party and proposed holding a "mega-election," adding congressional elections, state legislators and municipal councils to the ballot as well. "Let's go to powerful elections for a democratic renovation of the country, clearing the road for the rest of 2018, 2019, 2020, 2021, 2022," Maduro told reporters. "So we can dedicate ourselves entirely to the work of economic prosperity."
While Maduro said he would formalize his plans next week, the proposal seemed destined for approval. Minutes after the president spoke, Delcy Rodriguez, head of National Constituent Assembly, said she had received the proposal and Maduro could count on her support to "fortify the country's democracy!"
A dire economic crisis fueled a landslide opposition victory in congressional elections in 2015, which allowed them to retake control of the National Assembly for the first time since the late Hugo Chavez took power nearly two decades ago.
Contenders Barred
Yet, the government has since whittled away congress's powers through its control of the courts, and created a legislative super body, the National Constituent Assembly, to rubber stamp its own initiatives.
The opposition has tried to negotiate more favorable terms with the government through a series of meetings in the Dominican Republic, part of an international effort to remedy the country's bitter political crisis.
The MUD demanded the government set a date that provided ample time to appoint new electoral authorities and invite international observers. But as talks broke down, the ruling socialists did exactly the opposite, bringing election day forward without heeding the opposition's key demands.
Read more: Most Miserable Economies of 2018 Stay Haunted by Inflation Beast
Oropeza said the opposition will only participate once the government obeys the accords reached in Santo Domingo. "Without that, don't count on the opposition or the Venezuelan people to support a fraud."
While Venezuelans largely blame Maduro for quadruple-digit inflation, chronic food shortages and rampant crime, the opposition's top contenders are currently barred from holding office.
Activist Leopoldo Lopez is under house arrest on charges of inciting violence, when he led a wave of protests in 2014. And Venezuela's comptroller general banned two-time presidential contender Henrique Capriles from running for office last year, on charges of "administrative irregularities" found during his time as governor.
It remains unclear if any opposition figures will launch an independent run. Polls show most Venezuelans support the vote and are apathetic about the current field of opposition candidates, which is lead by former governor Henri Falcon. Over 62 percent of the respondents in a survey conducted last week by pollster Venebarometro said none of the names provided should be president.
— With assistance by Jose Orozco
(
Adds Maduro's call for 'mega-election' beginning in third paragraph.
)
Before it's here, it's on the Bloomberg Terminal.
LEARN MORE