markets
Too Few Stocks Rebounding From Rout for Chart Gurus to Calm Down
By
Equity gains since Feb. 8 are impressive, but breadth is not

Analysts waiting for buying thrust to confirm market's bottom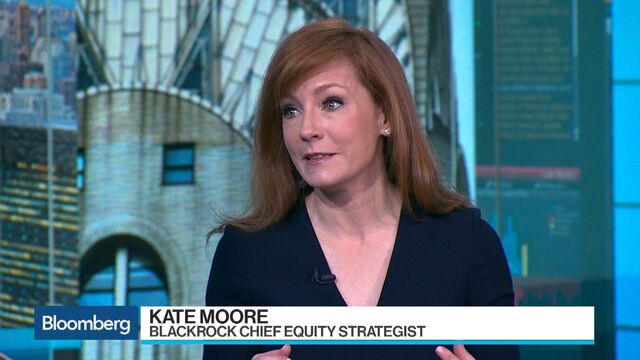 As reassuring as the stock market's recovery has been from its February selloff, not everyone is sleeping comfortably.
Take analysts who monitor charts and say a hallmark of past rebounds has gone missing in this one. To wit: while the S&P 500 Index has risen in six of seven days and just notched its best week in five years, it has yet to see the type of cathartic buying episode that sounded the all-clear after past routs.
The reason: relative weakness in energy, transports and even Facebook.

Through the last two weeks, the proportion of advancing shares on the New York Stock Exchange has stayed below 90 percent, a threshold sometimes referred to as "breadth thrust" that's viewed by technical analysts as a sign of sustained advance. The absence leaves the door open for a trip back to the lows, according to Russ Visch, a technical analyst at BMO Nesbitt Burns Inc.
"Despite the amazing run-up in equities we've seen, none of the days qualify as a true breadth thrust," Visch wrote in a research note. "In fact, it's not even close."
Visch isn't alone watching the breadth signal for all-clear signs. Stephen Suttmeier of Bank of America Corp. said the market experienced three days this month where 90 percent of total stocks and exchange volume were down, and he's now waiting for its opposite. It would "help confirm a meaningful low," he said.
And Chris Verrone at Strategas Research Partners said "panicked buying" has occurred after almost all major meltdowns during this bull market. Breadth readings spiked above 90 percent twice amid the summer swoon in 2015, and showed similar pattern after the selloff in early 2016.
"We would still contend that putting in a good low is a process and the likelihood of some additional drama in front of us is high," Verrone wrote in a research note.

Not everyone buys it. Market returns have shown small differences with or without a breadth thrust, according to a Sundial Capital Research report that studied the S&P 500's performance since 1940 when the index rebounded from a 50-day low during a bull market.
With heavy buying, the index was up 74 percent of the time one month later, with returns averaging 2.3 percent. Without it: 71 percent with an average 1.9 percent gain.
"We've all been conditioned to believe that certain things have to happen for a low to be valid. But most of those rules were created decades ago, and often with more theory than empirical evidence," said Jason Goepfert, president of Minneapolis-based Sundial. "Based on how markets have reacted in real-time, we wouldn't worry too much about the fact that we haven't had a big buying thrust yet."
Still, weakening breadth has signaled fake rallies before. In 2007, stocks suffered a correction from July to August. As the S&P 500 started bouncing back, fewer and fewer stocks managed to keep up. The NYSE cumulative advance-decline line, which measures the number of daily gains minus declines, began to roll over in June, four months before equities entered a bear market.
The latest bounce has been impressive at the index level. Up almost 6 percent since Feb. 8, the S&P 500 has recovered half of its losses. In the process, many shares have lagged behind: Eight out of the 11 major industries trailed the S&P 500 and the Dow Jones Transportation Average up less than 3.5 percent. A version of the S&P 500 that strips out market cap bias also underperformed.
Ned Davis, of his namesake research firm, draws the parallel between today and 1987, and warns investors to watch out for a repeat of that October, when an initial bounce failed to take hold and then snowballed into a bear market.
"It was that rally that was the big clue an 'accident' could happen, and that is what I would watch in the days ahead," Davis wrote in a note earlier this month.
Before it's here, it's on the Bloomberg Terminal.
LEARN MORE