markets
Tiny Brokers Overpower Wall Street Heavyweights in Hong Kong
By and
Despite losing market share, small local firms have big sway

They're now lobbying for a permanent seat on HKEX's board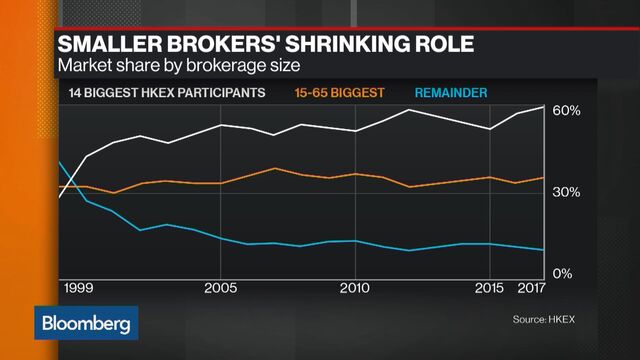 When Hong Kong's Securities and Futures Commission was weighing whether to strengthen oversight of initial public offerings in September, it had the full support of financial heavyweights including BlackRock Inc. and PricewaterhouseCoopers LLP.
But the regulator faced opposition from a group that, in Hong Kong at least, is far more powerful: tiny local brokerages that collectively handle just a tenth of the city's stock trades.
The IPO proposal was ultimately watered down, handing a victory to the brokerages and inflaming critics who say the firms are using their outsized role in Hong Kong politics to impede reforms in the world's fourth-largest equity market.
It's a refrain that may intensify in the coming months. Local brokerages are lobbying for a permanent seat on the board of Hong Kong's exchange operator, seeking to increase their clout despite nearly two decades of losing market share to bigger international rivals.
"It is completely bizarre that a segment of the community that represents 10 percent of total trading volume seems to have a disproportionate sway when it comes to any structural changes," said Martin Wheatley, who served as head of the SFC from 2006 to 2011 and is now an adviser to Hong Kong-based hedge fund Oasis Management.
Why do small Hong Hong brokerages have so much power? Much of it has to do with the city's unique political system and its failure to evolve with the stock market.
Before the turn of the century, equity trading in Hong Kong was much less concentrated than it is today; transactions were spread across hundreds of small family-owned firms. These brokerages were so important to the market -- and by extension Hong Kong's economy -- that they gained representation in both the city's main legislative body and the 1,200-member committee that elects Hong Kong's leader.
With the rise of electronic trading, more and more of Hong Kong's volume has shifted to a handful of international firms with the resources to invest in cutting-edge technology. Small brokerages have steadily lost market share, yet their role in the city's governance has persisted.
Lam Meeting
Representatives for the firms got face time last year with candidates for Hong Kong chief executive, the city's top government job. Vote-wielding brokers lobbied eventual victor Carrie Lam to kill the IPO plan, fearing that an emboldened SFC would restrict listings in the city's scandal-plagued small cap market and introduce more stringent criteria for independent corporate directors, among other changes, people familiar with the matter said. It's unclear whether Lam acted on the brokers' request.
A spokesman for Hong Kong's Financial Services and the Treasury Bureau said the IPO rules unveiled in September "incorporated the valuable views of the market and the stakeholders" and will reinforce the city's status as an international financial center. The SFC, BlackRock and PwC all declined to comment.
"We are doing as much as we can to get our voices heard by the government," said Christopher Cheung, chairman of Christfund Securities Ltd. and the Hong Kong lawmaker who represents local brokerages. Christfund ranks about 150th by volume in the city, Cheung said.
Local brokers often find themselves at odds with the industry's biggest players because they lack the scale to cope with regulatory and technology changes that benefit the market as a whole, according to Nick Ronalds, the former head of equities at the Asia Securities Industry & Financial Markets Association, a trade group whose members include Goldman Sachs Group Inc. and JPMorgan Chase & Co.
"The small brokers want to minimize operational, legal, and regulatory costs," said Ronalds, who left Hong Kong in August and now runs a consulting business in Chicago. "The big ones do too, but they have global scale."
The ability of small brokerages to delay or thwart structural changes helps explain why Hong Kong's closing auction system differed from global norms until 2016, why the city introduced after-hours derivatives trading decades after the U.S., why efforts to narrow bid-ask spreads have been protracted, and why it took years to end the practice of charging minimum commissions on trades.
Small brokerages need support while they adapt their business models to survive, said Gary Cheung, chairman of the Hong Kong Securities Association. He's asking government and exchange officials to ensure that a representative for the firms always sits on the board of Hong Kong Exchanges & Clearing Ltd., the city's sole bourse operator. Six of HKEX's 13 directors are appointed by the government.
'Long History'
In a response to questions from Bloomberg on Gary Cheung's proposal, Hong Kong's financial services bureau said the government considers prospective directors' experience in financial, business and public services when making appointments to the HKEX board. An HKEX spokeswoman said the exchange weighs the interests of Hong Kong's markets, HKEX's development and the benefits of diversity for its nominations.
Hong Kong must find ways to develop its market without turning its back on firms that helped build the city into one of the world's biggest financial hubs, Charles Li, the chief executive officer of HKEX, said in a wide-ranging interview in June.
"A lot of the small brokers used to be owners of the exchange and there is a long history and heritage," Li said. "As a central market operator, it's valuable for us to have their perspectives. You can't afford to be a snob about size because you have a universal obligation to bring everyone into the market, large or small."
That will be a tough balance to strike without losing ground to markets in New York, London and Shanghai, according to Wheatley, the former SFC chief.
"A modern market has to be global in outlook," he said. "But when it comes to brokers, there is a desire not to upset the apple cart."
Before it's here, it's on the Bloomberg Terminal.
LEARN MORE