politics
So Far, Trump Has Stayed Onside With Gun Lobby
By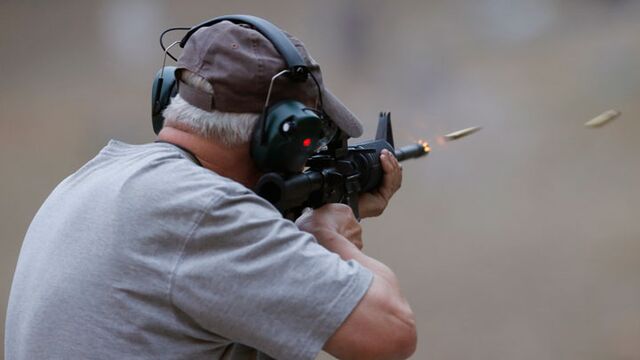 Want to receive this post in your inbox every morning? Sign up for the Balance of Power newsletter, and follow Bloomberg Politics on Twitter and Facebook for more.
Donald Trump has embraced a pair of gun control proposals that advocates are eyeing warily — in part because they've been green-lighted by the National Rifle Association.
The most concrete step came yesterday, when the U.S. president ordered a ban on devices known as "bump stocks" that allow semiautomatic rifles to be fired more rapidly. Trump later called for a bipartisan focus "on strengthening background checks" without specifying whether he'd push for more than what's included in a modest bill the NRA has okayed.
The White House hasn't slammed the door on the possibility that Trump — who last year promised the gun lobby, "I will never, ever let you down" — could get behind more significant gun law changes.
But opposition remains fierce in many rural parts of the U.S. despite a poll taken in the immediate aftermath of last week's Florida school shooting showing growing support for stricter gun laws. So the political calculus for individual members of Congress — whose approval would be needed to enact more sweeping changes — is unlikely to change.

Global Headlines
Syrian war escalating | The risk of direct conflict between Turkey and Syria increased yesterday, with President Bashar al-Assad sending fighters to the border town of Afrin to help Kurds battle a Turkish incursion. In another sign of the intensification of the war, forces loyal to al-Assad are bombing the rebel-held Damascus suburb of Ghouta in a campaign aid agencies say has killed more than 250 people in three days.
May under pressure | Prime Minister Theresa May faces another showdown with pro-Brexit lawmakers angry that her plans for leaving the European Union appear to fall short of a decisive split — and they have the numbers to trigger a leadership challenge. Meanwhile, so-called Remainers haven't given up on reversing Brexit altogether, and have come up with an answer to Boris Johnson's iconic Vote Leave bus from the 2016 referendum: it's another red bus, but with a very different slogan.

Leadership threat | Already battling two other criminal probes, Israeli Prime Minister Benjamin Netanyahu's legal woes just worsened with news that one of his former top aides is set to testify against him in a third investigation. Last week police recommended charging Netanyahu with bribery and breach of trust. He denies the allegations. 
Putin's "cook" | Following U.S. Special Counsel Robert Mueller's latest plea deal, Bloomberg profiles Yevgeny Prigozhin, a long-time associate of Russian President Vladimir Putin. Prigozhin was among 13 Russian nationals who Mueller indicted on charges of defrauding the U.S. government in a conspiracy to sway the 2016 U.S. election. Latvia is the latest nation to suggest Russia could be staging a disinformation campaign ahead of an upcoming vote.
Pence's missed opportunity | U.S. Vice President Mike Pence was willing to meet with Kim Jong Un's envoys earlier this month during the Winter Olympics in South Korea, but the North Koreans backed out. The revelation comes as the North Korean cyber-espionage group "Reaper" was identified as a global threat, with accusations it's spying well beyond the Korean peninsula. 
City under siege | Few people complained when Brazilian President Michel Temer put a general in charge of Rio de Janeiro's security last week, but as David Biller writes, it'll take more than guns to fight crime. Behind the violence in the postcard city lies a prolonged economic crisis and mismanagement that have left the state without money to invest in police, or even to pay salaries.
And finally... As Uganda moves on from the chaos sown by Joseph Kony's Lord's Resistance Army, his former child soldiers have found an unlikely second career: movie stars. With peace came a surge in locally funded films, although there's still a long way to go before Uganda challenges Nollywood, Nigeria's famously prolific film industry. 

— With assistance by Stuart Biggs
Before it's here, it's on the Bloomberg Terminal.
LEARN MORE