markets
Sell Side Says Chill Out on Alarming Yield Talk: Taking Stock
By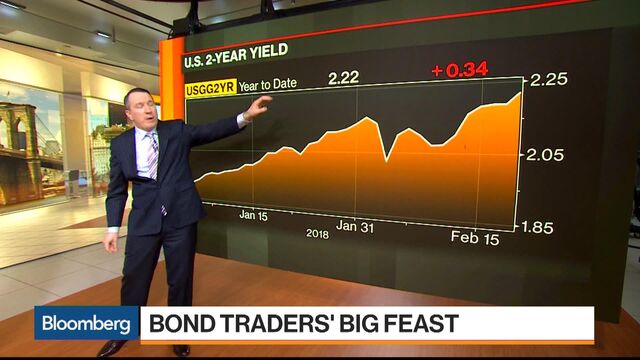 Stock futures are slightly lower as the dollar holds onto recent gains, buoyed by weaker PMI data out of Europe. News flow remains light, and we should expect another low volume day (consolidated equities tape had second lowest volumes session in over 3 weeks) unless we get any shock revelations in the eco data and/or the Fed minutes.
Reasons for Yesterday's Selloff
1) Recurring jitters over higher yields, with shorter-dated Treasury bonds selling off post-auction and sending the 2-year yield to its highest level since 2008
2) An upside move in the dollar, whose bounce has coincided with a stoppage in the broader market's relief rally since midday Friday
3) Dow component WMT, arguably the most important earnings report of the week, plunging more than 10% on weak forecast and e-commerce growth concerns, sending all of consumer staples off a cliff
But Yield Scare May Be Tapering..
While these are all quasi-legitimate concerns, those in the glass-half-full camp may point to the opposite move in 10-year yields, which pulled back throughout the day to below 2.90%, plus shouts from the sell-side to simmer down about rising rates: JPMorgan's Dubravko Lakos-Bujas today says "there has been some overreaction to inflation headlines lately" while Credit Suisse's Jon Golub yesterday moved the unnerving yield goalpost to 3.5% instead of the 3% that others have cited.
As for yields, the biggest inflation data points of the week are expected today with PMIs at 9:45am and the FOMC Minutes at 2pm -- Steven Englander, head of research and strategy at Rafiki Capital, with an interesting viewpoint on what may be a hawkish tilt: "The most likely surprise in the Fed Minutes tomorrow is that they may be leaning to four hikes in 2018, but the biggest surprise would be growing support to aim for above two percent inflation temporarily to make up for previous misses to the downside."
Tech Can't Stop Winning (Except Facebook)
Importantly, tech stocks did not suffer with the rest of the market yesterday as S5INFT was the sole S&P sector in the green. The group continues to handily outperform all others since the market recovered nearly two weeks ago, with semiconductors (AMAT +24%, LRCX +19%, NVDA +15%, MU +12%) having been a key contributor. FANG has also acted great aside from FB, which is up only 2.6% since the big Feb. bounce vs the others up ~10%.
What's on tap today?
Eco: Fed's Harker speaks 9am, Feb PMIs 945am, Existing Home Sales 10am, FOMC Minutes 2pm
Earnings before the open: AAP, CNDT, DISH, GLEN LN, GRMN, HFC, JELD, LNG, MDCO, MDR, MNTA, RUTH, SO, UTHR, VG, WEX, WWW
Earnings after the bell: AAOI, ANSS, CAKE, CAR, DYN, FE, FIVN, FTI, GDOT, HBM, HST, IAG, JACK, KALU, MB, NE, O, P, PE, PODD, RGR, ROKU, SAIL, SAM, SD, SNPS, SRCL, STMP, VMI, WEN
Analyst meetings: DIN, NGVT, TROW
Consumer: CAGNY continues w/ CCE, CPB, HSY, K, MO, PEP, PM, SJM, STZ
Industrials: Two conferences start today between Barclays and Citi, with GE speaking at both; others on the agenda include BA, GD, HON, MMM, UTX and a bunch of rails
Healthcare: RBC hosts an event with names such as CAH, CELG, DVAX (also awaiting update from CDC on Heplisav-B today), GILD, INCY, JNJ, RVNC
Energy: EnerCom in Dallas begins while International Petroleum Week rolls on
Before it's here, it's on the Bloomberg Terminal.
LEARN MORE