business
Productivity Primed to Pick Up in U.S. and Europe, McKinsey Says
By
Digitization seen driving annual efficiency gains of 2%-plus

Technology pipeline 'robust, broad and deep' across industries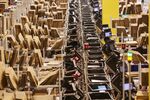 The era of anemic productivity growth may be coming to an end in the U.S. and Europe.
So says the research arm of consultation company McKinsey & Co. in a new 147-page report. It argues that productivity could expand at a 2 percent-plus annual clip over the coming decade versus the roughly 0.5 percent pace in recent years.
"We are very optimistic" about the potential for achieving significant gains, Jaana Remes, a partner at McKinsey Global Institute in San Francisco, said in an interview. "We have never seen as robust, broad and deep technology pipelines" in and across industries.
Digitization will be a major force behind the projected upswing: McKinsey reckons that Europe overall operates at only 12 percent of its digital potential now while the U.S. is at 18 percent.
Such improvements will range from increased retail sales online -- they make up about 10 percent of transactions now even though they're twice as productive -- to commercial development of highly or fully autonomous cars, which could account for as much as 15 percent of industry sales by 2030, according to McKinsey. Other possible efficiency enhancements include more banking transactions online and a greater use of smart meters by utility companies.
McKinsey likened the current period to that which preceded the late-1990s surge in output per hour worked. Well before that increase, Nobel Prize-winning economist Robert Solow quipped that "you can see the computer age in everything but the productivity statistics."
'Dramatic Change'
"This a very dramatic change in many industries," Remes said. "They are just learning how to make best use of these technologies."
The report also highlighted the importance of demand in determining the pace of productivity. Faced with slack demand and excess capacity after the financial crisis, companies slashed planned purchases of efficiency-enhancing equipment. They also were forced to sell lower-premium products to entice wary consumers to buy them.
Now many of those headwinds are fading as the global economy rebounds, contributing to the pick-up in output per hour foreseen by McKinsey.
"We are getting out of the worst productivity-related effects of the crisis," said Jan Mischke, a McKinsey Global Institute partner in Zurich.
A big uncertainty going forward though is whether digitization will aggravate income inequality and other longer-term trends holding back growth, he said. That puts a premium on pursuing economic policies such as enhanced worker training to counteract that.
"Re-skilling and keeping demand up will be key ingredients" in helping to ensure faster productivity growth, Mischke said.
Before it's here, it's on the Bloomberg Terminal.
LEARN MORE