Latvia Central Banker May Skip ECB Meet Amid Calls to Quit
By and
President says Baltic EU member state's reputation at stake

Russia signaled as possible source of information war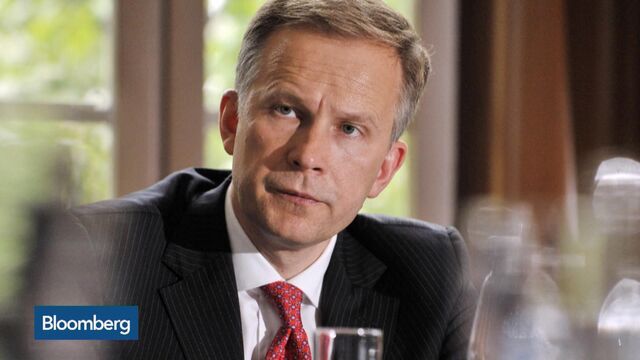 Latvia's central bank chief faced renewed calls to quit over a bribery scandal that's roiled the Baltic nation, as it looked likely he would miss a meeting of the European Central Bank's Governing Council in Frankfurt.
The ECB is gathering on Wednesday for one of its regular non-monetary policy meetings, which are usually attended by senior officials from 19 member states' central banks and six executive board members, including President Mario Draghi. Policy makers will next meet to set policy on March 8.
Latvia's president, Raimond Vejonis, urged central bank Governor Ilmars Rimsevics to put the interests of his country first. "The reputation of the state and the financial sector is very important and in these conditions the right decision would be for the president of the Latvian central bank to step down," he told reporters in Riga on Wednesday.
The corruption allegations have provoked a deepening crisis in the European Union and NATO member nation of 2 million inhabitants. A regional banking hub that borders Russia, Latvia has long faced scrutiny for cases of money-laundering, concerns that escalated when anti-corruption authorities detained Rimsevics at the weekend on suspicion of securing bribes.
Russian Interference?
The 52-year-old has led the central bank since 2001, making him the longest-serving head of a national bank on the ECB's Governing Council, which he joined in 2014 when Latvia adopted the euro. Freed on bail on Monday, he denies any wrongdoing and said he's the victim of a smear campaign by a group of banks.
The Defense Ministry went so far as to suggest Latvia is facing a disinformation campaign aimed at eroding public trust before elections in October. It described the operation as "identical" to those observed ahead of voting in the U.S., France and Germany -- meddling that was widely blamed on Russia. 
Kremlin spokesman Dmitry Peskov told reporters on a conference call there's no grounds to accuse Russia, adding "this is a matter of the internal political affairs of our Latvian comrades, we wouldn't want to get involved in this."
Bank Ban
Rimsevics has no plans for now to go to Frankfurt for the ECB meeting, a spokesman for the central bank, Janis Silakalns, said by phone. Deputy Governor Zoja Razmusa is in Frankfurt in his place, though she is ineligible to vote on decisions unless she's appointed as his long-term substitute.
The central bank chief said Tuesday that he hoped to receive permission from national authorities to attend the ECB session. But Finance Minister Dana Reizniece-Ozola said that Rimsevics can't leave the country under his bail terms.
The investigation into Rimsevics is just one piece of the financial scandal in the former Soviet republic, which regained independence in 1991. Just last week, the U.S. Treasury Department proposed to ban ABLV Bank AS, the third-largest lender, from the U.S. financial system, saying it helped entities allegedly linked to North Korea's missile program and engaged in money laundering. While ABLV denied the U.S. charges, the ECB slapped a payment moratorium on the lender.
— With assistance by Henry Meyer
Quotes from this Article
Before it's here, it's on the Bloomberg Terminal.
LEARN MORE