quicktake
How a German Court Case Could Accelerate Diesel's End
By and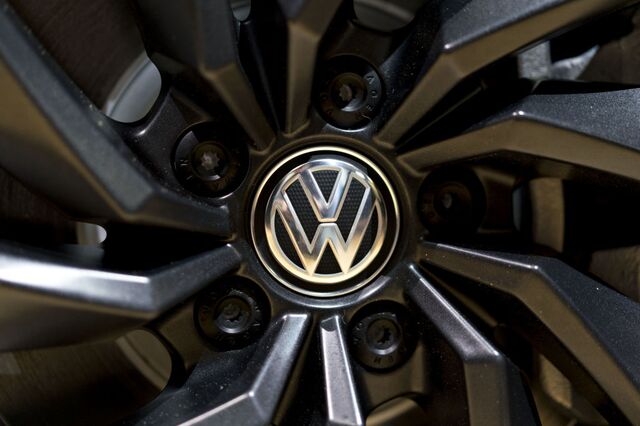 Germany's top regulatory court backed the possible ban of diesel cars from city centers to improve air quality, a move that could prove pivotal to the fuel's future. While diesel models still account for a third of Germany's auto market, sales have been slumping since Volkswagen AG admitted in 2015 to cheating on pollution tests. Removing older diesel vehicles from inner cities would hamper efforts by German carmakers and competitors including Ford Motor Co. to promote diesel technology as a way to cut carbon-dioxide exhaust emissions.
1. What were the lawsuits about?
The Deutsche Umwelthilfe, or DUH, environmental lobby has sued municipalities across Germany to make them enforce European Union air pollution limits they've exceeded for years. The Federal Administrative Court rejected appeals of lower-court rulings that said prohibitions of diesel-car use in the downtown areas of Stuttgart and Dusseldorf must be considered among potential measures to cut levels of harmful nitrogen dioxide. Diesel vehicles are the primary source of that exhaust gas, which causes respiratory problems and has been linked to premature deaths.
2. What happens now that the cities have lost their appeal?
The top court's decision will be the model for rulings in the DUH's other lawsuits. It's also likely to prompt additional communities to adopt prohibitions, given how big a role diesel cars play both in the auto market and in NO2 pollution in city centers. It will also push Germany's federal government to provide a nationwide regulatory framework.
3. How swiftly could driving bans be implemented?
The cities will need at least six months to rewrite their pollution policies before imposing any ban on the use of diesel cars, according to Oliver Wittig, head of public-sector law at the German legal unit of consulting firm EY. Regulatory changes in Germany, Europe's largest car market, are likely to influence policies across the continent.
4. How many cars would be subject to a driving ban?
Any municipal bans will probably target vehicles equipped with emissions-control technology known as Euro 5, which were on sale until late 2015, and older autos. The top court said Euro 5 models must be exempted from any ban at least until September 2019. There were 10.6 million diesel cars meeting Euro 5 or the previous two emissions standards on German roads as of 2016, according to the latest data. That's just the number registered there and doesn't include the thousands of autos from neighboring nations that travel into and out of the country daily.
5. How bad is the problem?
Last year, the air in 66 German cities exceeded the EU's annual average limit for NO2. Munich, the hometown of BMW AG, and Stuttgart, where Volkswagen's Porsche division and Mercedes-Benz owner Daimler AG have their headquarters, were at the top of the list. The NO2 levels in Munich were almost double the permitted annual average.
6. What are the implications for car manufacturers?
Before the VW cheating scandal, diesel cars made up close to half of Europe's auto market. The industry promoted the fuel as a way to reduce output of CO2, a greenhouse gas blamed for global warming that's the primary target of EU emissions regulations. As a result, carmakers have been sticking with the technology. Even with local bans enacted, the companies will still be able to sell the cars. But restrictions on driving might accelerate a drop in demand, with consumers already worried about the autos' resale values and annoyed by official recalls to equip the models with the cleanest exhaust systems.
7. How big a sales drop has there been?
Diesel-car deliveries in Germany plunged 18 percent in January from a year earlier, as consumers mainly switched to gasoline vehicles or, to a lesser extent, battery-powered models. Across Europe, sales of new diesel autos dropped 12 percent last month in the top five markets, according to EY. The vehicles have plunged from 51 percent of German new-car registrations prior to the VW scandal's disclosure to 33 percent in January and could end this year at 25 percent, EY estimates. That's forced companies to adapt their line-ups to make up for buyers' sudden shift in preference. Robert Bosch GmbH, a supplier, said in January that a further decline could lead to "an employment issue" at diesel-related parts factories as early as this year.
8. How is Germany responding?
Until now, the federal government has focused efforts on upgrading cars to prevent bans that could disrupt urban traffic to the cost of vehicle owners. At the same time, it's been under pressure from both local authorities and the EU to improve air quality. Chancellor Angela Merkel pledged in late 2017 to double a clean-air fund to 1 billion euros ($1.23 billion) to finance measures including purchases of electric buses. Most recently, the government has floated the idea of providing public transport for free. The plan is part of a portfolio of measures to avoid EU penalties as the bloc looks at cracking down on member states for exceeding air-pollution limits.
9. Is the government taking any action against car companies?
In August, Germany reached an agreement with carmakers compelling them to upgrade emissions software on millions of vehicles and offer trade-in incentives on older models. The deal was widely seen as a slap on the wrist, comprising only actions that are easy and cheap. Merkel's new government is set to decide this year whether diesel cars also need hardware fixes to curb emissions, steps that carmakers have vehemently opposed.
The Reference Shelf
Before it's here, it's on the Bloomberg Terminal.
LEARN MORE