business
Brexit Bulletin: Under Pressure
By
Conservative lawmakers demand a harder Brexit

May trying to get backing for her plans on Thursday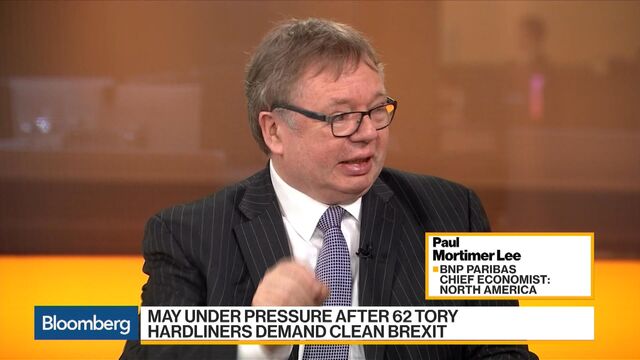 Sign up to receive the Brexit Bulletin in your inbox, and follow @Brexit on Twitter.
Just as Theresa May's vision for Brexit was beginning to emerge – through a series of speeches and a planned get-together of her inner circle on Thursday – members of the prime minister's own party are demanding an urgent rethink.
The proposed split from the European Union just isn't decisive enough or quick enough, 62 Conservative lawmakers told May in a letter released last night. Included in their list of demands is the scrapping of the post-Brexit transition phase in the way it's currently envisaged, which would essentially see the U.K. remain shackled to the EU without any say over decision-making until the end of 2020, and instead have a period that gives Britain much more flexibility.

While insisting they back the prime minister's leadership, the band of Brexiters – led by Jacob Rees-Mogg (read Bloomberg's profile of Rees-Mogg here) – links its support to her delivering a Brexit divorce that leaves few lingering ties to the union of nations they're so keen to see the back of. As Robert Hutton and Tim Ross report, it raises the pressure on May because the group has more than enough members of parliament to trigger a leadership bid against her. Since the snap election last summer, she hasn't held a parliamentary majority.
Members of the European Research Group of euroskeptic Conservative lawmakers, which organized the letter, met May in her 10 Downing Street office on Tuesday to discuss their demands, or, as their letter generously puts it, "to share some suggestions." These include:
Dropping the EU's vision of Britain's transition phase, so the U.K. can "change British laws and rules once we leave, rather than being a 'rule taker' without any substantive say in whatever Brussels decides;"
Being free to start trade negotiations immediately after Brexit; and 
Having a transition period, or implementation phase, that is based on the principles of the World Trade Organization, implying that the transition should be accepted only if a free-trade agreement with the EU is guaranteed.
While the government hasn't finalized its Brexit vision, the broad shape of the deal May wants to negotiate with the EU is becoming clearer, and it doesn't look like the type of "hard Brexit" that the euroskeptic group supports. If the EU accepts May's plan, the U.K. would stay closely aligned to the bloc's rules in many areas, including manufactured goods, while breaking away immediately in others, such as agriculture and financial services. In a speech in Vienna on Tuesday, Brexit Secretary David Davis proposed that both sides could mutually recognize each other's regulations as acceptable in future, removing the need for cumbersome negotiations on developing shared regulatory regimes.
After an away-day with her most senior ministers at Chequers, her country retreat, on Thursday, to try to win their backing of the plan, May is expected to set out her vision for future ties with the EU in a speech next week. She aims to reach agreement with the EU on the transition period at a summit of leaders in Brussels in the second half of March. That meeting should also allow the start of negotiations on the future relationship.
And, as ever, whatever vision May and her team come up with, it'll still have to be acceptable to the other 27 EU countries. As the negotiations have demonstrated already, that's far from a given.
Brexit Latest
Italian Hopes | The U.K. could still get a "bespoke" trade deal after it leaves the European Union, but it will need to give ground in return, according to Sandro Gozi, Italy's junior minister for European affairs. He told Bloomberg that a tailor-made trade deal will depend on "what they really want, what they are ready to offer." He added: "I hope they will be ready to move away from their red lines on free movement and the European Court of Justice because these red lines prevent us having a comprehensive trade deal; it's going to be very difficult."
Quid Pro Quo | European Union governments could demand the continued free movement of their workers to Britain after Brexit in return for offering financial-services firms in the U.K. access to the single market, according to the Daily Telegraph. The newspaper said EU diplomats noted the idea was "floating informally around the corridors of power in Brussels."
Continue to Trade | Jeremy Corbyn confirmed his Labour Party will campaign to keep Britain inside a customs union with the European Union, calling it necessary for trade and to prevent a hard border with Ireland. "We have to have access to European markets," the opposition leader told the EEF manufacturers' organization. "We have to have a customs union that makes sure we can continue that trade, particularly between Northern Ireland and the Republic of Ireland. That is key to it."
Bombs and Guns | The "hard dogma" of those who want maximum separation from the EU after Brexit risks bringing "bombing and shooting" back to Northern Ireland, the U.K.'s former top official to the province said. "I have yet to see anybody provide a sensible solution to the Irish border issue and Good Friday Agreement without both sides of the border being in the customs union," former Northern Ireland Secretary Peter Hain said in an interview with Bloomberg's Kitty Donaldson. "A lot of the hard Brexiteers claim they want to see the current open border maintained, but they are dogmatic in their insistence on Brexit at any cost."
Farming Benefits | Britain won't sign trade deals after leaving the EU that put farmers at a disadvantage because of British animal welfare or environmental regulations, according to Secretary of State for Environment, Food and Rural Affairs, Michael Gove. The government will uphold current animal welfare standards and may support industry-led initiatives to improve them, Gove said.
A Mess or a Smear | Foreign Secretary Boris Johnson described Brexit as "a mess" during a private meeting with senior German officials, according to the Daily Telegraph, citing "EU sources." Johnson was referring to the complex Brexit negotiations rather than the British decision to leave the bloc, according to the newspaper. The article includes a denial of the reports by friends of Johnson, "who branded them a smear and a hatchet job." 
And Finally...
Boris Johnson touring the U.K. in a Vote Leave bus emblazoned with the slogan "We send the EU £350 million a week – let's fund our NHS instead" became the iconic image of the 2016 referendum campaign. Nearly two years on, and with a weary public hearing whispers of the possibility of a second referendum in the air, opponents of Brexit have decided to take their own red bus on the road. 

Its motto is the far less snappy: "Brexit to cost £2,000 million a week says government's own report. Is it worth it?"
The bus starts its eight-day journey from Westminster on Wednesday and will make 33 stops across the country.

For more on Brexit follow Bloomberg on Twitter, Facebook and Instagram
Before it's here, it's on the Bloomberg Terminal.
LEARN MORE