Banker at Heart of Latvia's Widening Drama Fights All Comers
By and
Rimsevics outlasted 19 governments in quarter century

Official's efforts helped make Latvia newest euro member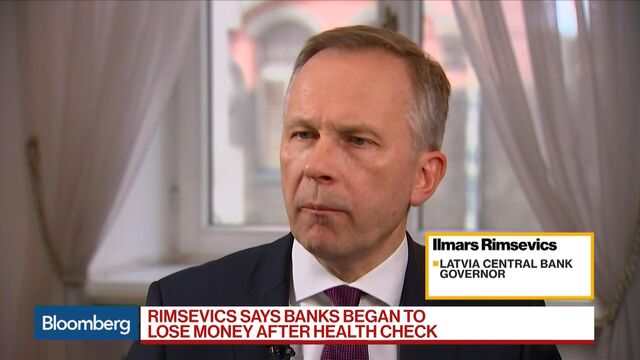 In his quarter century atop Latvia's central bank, Ilmars Rimsevics has outlasted 19 governments and two currencies, emerging as much more than a guardian of price stability.
But he's now fighting for his professional life, at the center of a widening drama that includes death threats, dark hints of Russian interference, accusations of North Korean money laundering and suggestions of score-settling among the tiny nation's elite.
In a stunning fall from grace, Rimsevics was taken into custody Saturday evening, on suspicion of taking bribes. Released on bail 48 hours later, he then rebuffed appeals from the prime minister, finance minister and president to step aside. He said he was the victim of a conspiracy.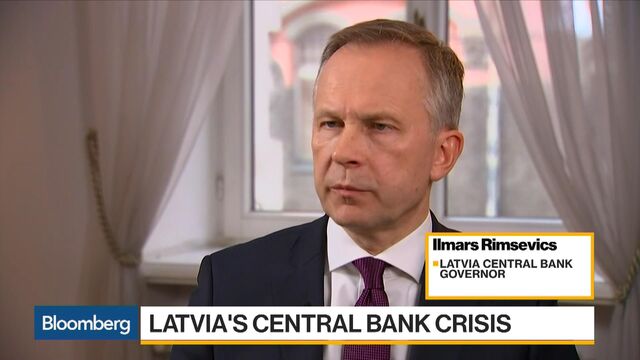 "I have taken the decision not to resign," Rimsevics, who's also a member of the European Central Bank's Governing Council, told reporters in Riga on Tuesday. "I am not guilty."
Since lawmakers first elected him governor in 2001 -- he's been re-elected twice -- the central bank has consistently surpassed the government and parliament in opinion polls. And in a country that's endured 13 prime ministers in a quarter century and the world's deepest economic plunge after the 2008 collapse of Lehman Brothers, he was until this week one of just a handful of officials to remain unscathed.
Opinion Leader
"The public views him not so much as a state official but rather as an opinion leader," Iveta Kazoka, an analyst at Providus public policy center in Riga, said by phone. He was "this fatherly type, on what's wrong with economics and finances in Latvia, and what can be done to improve the situation."
Indeed, he has spent most of his professional life rebuilding Latvia, which regained independence in 1991 following the collapse of the Soviet Union. The 52-year-old Riga-born engineering economist joined the central bank as deputy governor in 1992 after getting his MBA from Clarkson University in upstate New York.
He has jealously guarded his institution. In 2009, when the Latvian financial crisis wiped out a fifth of the economy and officials slashed public-sector salaries, he called into a live TV interview to confront then Prime Minister Valdis Dombrovskis. When the premier said the central bank needed to cut its wages, Rimsevics reminded him the bank already had.
"There are not too many people in Latvia who would ever dare to contradict him," Kazoka said.
Information War
That's barely changed. While the government has called for him to step aside, at least during the investigation, his colleagues at the ECB have remained mum. Rimsevics's predecessor at the Bank of Latvia, Einars Repse, said he "cannot imagine" that his "friend and colleague" could be guilty.
"If the governor isn't guilty, he shouldn't resign," Repse, also a former premier and finance minister, said on Twitter. "This would be a victory for the enemies of Latvia."
The Defense Ministry went so far as to suggest Latvia is facing a disinformation campaign aimed at eroding public trust before elections in October. It described the operation as "identical" to those observed ahead of voting in the U.S., France and Germany -- meddling that was widely blamed on Russia.
Treasury Ban
Rimsevics denied accusations he sought bribes, claimed a group of banks is conspiring against him and said he received a death threat. He disparaged allegations by Norvik Banka JSC, a Riga-based lender controlled by Russian-born U.K. citizen Grigory Guselnikov, that he sought to shake down the company.
Adding to the turmoil, the U.S. Treasury Department last week proposed to ban ABLV Bank AS, the country's third-largest lender, from the U.S. financial system, saying it helped entities allegedly linked to North Korea's missile program and engaged in money laundering. While the lender denied the U.S. charges, the ECB slapped a payment moratorium on it.
Recession Scapegoat
There have been previous setbacks. Rimsevics was a scapegoat for the recession that cratered the economy, pilloried in a 2016 theatrical satire called "Success Story." In the production, he was slammed as a proponent of policies that slashed benefits and raised taxes to meet terms of a 7.5 billion-euro ($9.2 billion) International Monetary Fund rescue. Rather than devalue the lats, he kept its peg to the euro to allow entry into the single currency.
If the economic collapse was the second-lowest point point of his career, then joining the euro club soon after had to be the peak.
He's now the longest-serving head of a national bank on the ECB's Governing Council, and may miss a non-policy meeting of the group Wednesday, a spokesman in Riga said.
He's commissioned his Latvijas Banka to draft papers on the country's tax, health care and education systems, using them to present his ideas for improvement in debates on Latvian and Russian-language television channels and at the authority's annual conference.
Now he's dealing with the low point.
"The situation is extremely complicated," Rimsevics said. "Possibly the most complicated in my life."
— With assistance by Milda Seputyte
Before it's here, it's on the Bloomberg Terminal.
LEARN MORE