markets
Treasury $258 Billion Bond Auction Is Hogging All the Attention
By
Two-year notes lead the sell-off, eurodollar curve steepens

Investor appetite may be tested on bigger deficits: StanChart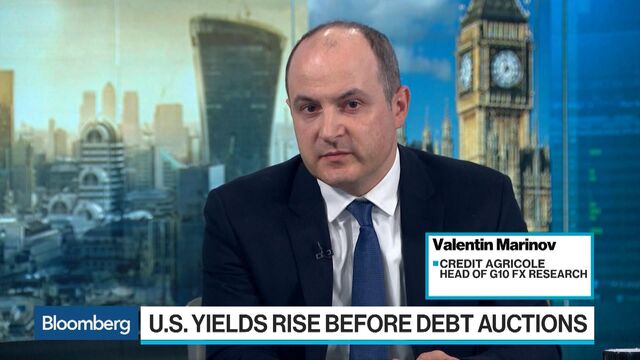 U.S. Treasury bonds fell across the board on Tuesday as investors demanded higher yields ahead of record issuance of three- and six-month bills this week.
Two-year Treasuries led the selloff, while the eurodollar curve -- which is used to extrapolate Federal Reserve expectations -- steepened too. The Treasury sells three-month bills worth $51 billion and six-month bills for $45 billion, both unprecedented in their size. Total issuance this week is expected at $258 billion.

The glut in supply follows the passing of a two-year budget deal by the Republican-controlled Congress on Feb. 9 that raises government spending by nearly $300 billion. Investors may have to brace themselves for more issuance over the coming months and years if President Donald Trump's fiscal stimulus doesn't boost growth enough to keep a lid on deficits, according to John Davies, a U.S. interest-rate strategist at Standard Chartered Plc.
"The market is setting up for the T-bill and two-year auctions due today, with two-year floating rate notes, five-year and seven-year Treasuries still to come this week," Davies said. "The immediate question is what level of yields will be required for that additional supply to be digested, and of course beyond that how the deficit will actually develop."
The yield on two-year Treasuries climbed five basis points to 2.24 percent, a level not seen in nearly 10 years. Those on 10-year bonds rose five basis points to 2.91 percent. The eurodollar curve steepened, with the futures contract due in March trading at 97.96 versus 97.9550 on Friday.
Before it's here, it's on the Bloomberg Terminal.
LEARN MORE