The Party Previously Known as the Northern League
By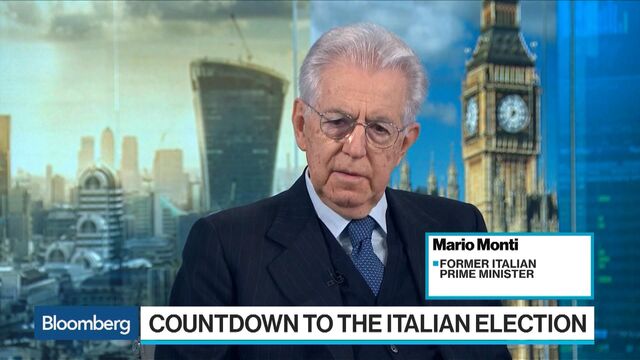 Italians go to the polls on March 4 with voters divided over the country's relationship with the European Union, taxes, and immigration. Here's your daily guide to the latest news.

Anti-immigrant, anti-euro and anti-tax, but no longer anti-poor people in the south. The party previously known as the Northern League has undergone a fundamental rebranding as it seeks to edge out Silvio Berlusconi for control of the center-right coalition. As John Follain reports, its leader Matteo Salvini is this week wooing the southern voters his party once dismissed as beggars and thieves. 

Count on Italians to find a creative solution to the 15-day blackout on polls that started last Saturday. As Alessandra Migliaccio and Chiara Albanese report, bloggers have been writing up the results of fictitious underground horse races that bear a striking resemblance to the election campaign. 
Politicians making outlandish promises are a staple of most elections, but investors shouldn't be too worried about how Italy will pay for this year's pledges, former Prime Minister Mario Monti told Bloomberg TV's Francine Lacqua. "Luckily, they will not be honored," he said.
Quote of the day:
"I won't meet again with this rabble -- I mean these people --  honestly, I've had enough of them." Economic Development minister Carlo Calenda on Whirlpool Corp. executives who refused a government request to delay firing 500 workers near Turin.
Ray Dalio's bet against Italy will prove a costly mistake, according to Algebris Investments Chief Executive Officer Davide Serra. The billionaire founder of Bridgewater Associates will be hurt by his short position on Italian banks because the election result won't disrupt markets, Serra said in Bloomberg TV interview.
Italian yields are rising all the same though. As John Ainger reports, investors are getting nervous about the rift within Berlusconi's center-right coalition, which could complicate the post-election horsetrading.  
Who's tweeting: Silvio Berlusconi wants 40 percent of Italians to vote for him to secure a clear majority, Prime Minister Paolo Gentiloni is giving more old people free TV.

In case you missed it, Berlusconi shunned a peace pact with his so-called allies, bots are supporting populists on social media, and prime-ministerial hopeful Antonio Tajani says the center-right coalition is not euroskeptic.
Before it's here, it's on the Bloomberg Terminal.
LEARN MORE