South Korea Refuses Call to Fire Judge Who Freed Samsung Heir
By
Presidential office notes anger over ruling in first response

Samsung's Lee set free Feb. 5 despite conviction for bribery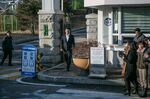 The South Korean government said it lacked authority to fire the judge who freed de facto Samsung chief Jay Y. Lee, as public anger simmers over the decision to suspend his prison sentence from a graft conviction.
President Moon Jae-in's office issued the unusual response via YouTube on Tuesday, after more than 240,000 people joined an online petition on the presidential website seeking an investigation into the judge. The push underscored the extent of discontent over a Feb. 5 ruling in which the judge sentenced Samsung Electronics Co.'s vice chairman to two and a half years in prison, but let the tycoon walk free.
The ruling cast doubt on South Korea's ability to curb perceived unfair business practices by chaebol, the conglomerates that dominate sectors from groceries to electronics. The decision fit a pattern of executives getting convicted and then freed with suspended prison terms.
"We recognize that public opinion hasn't agreed with these rulings, which is the background for people taking pains to file a petition," media policy official Jeong Hye-seung said during a live YouTube briefing, the presidential office's first formal response to the ruling. The number of signatures exceeded the 200,000 required for an official response from the administration.
Moon came to power in May promising to crack down on murky ties between government and business. His predecessor, Park Geun-hye, was ousted in March in an influence-peddling scandal that involved Samsung's gifts of horses to a confidante. Lee received a five-year sentence in his first trial from another judge who ruled that the businessman bribed Park's confidante to facilitate a 2015 merger that gave him greater control over Samsung Electronics. Lee has denied the charges.
— With assistance by Kanga Kong
Quotes from this Article
Before it's here, it's on the Bloomberg Terminal.
LEARN MORE