politics
Police Name Netanyahu Aides, Bezeq Officials in Graft Probe
By
Investigation moves closer to PM Netanyahu's inner circle

Officials suspected of helping Bezeq for better news coverage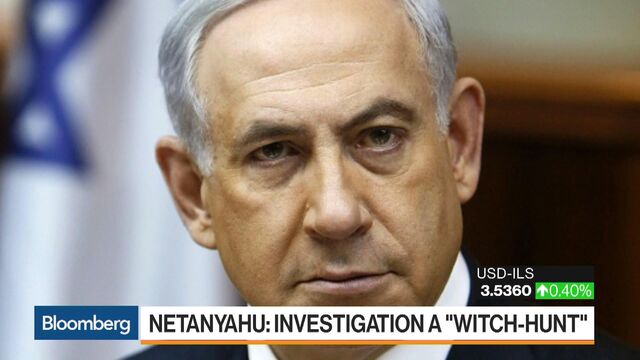 Israeli investigators identified seven people linked to Prime Minister Benjamin Netanyahu and the country's largest telecommunications company who have been arrested in a new probe of alleged influence-trading that's moved close to the Israeli leader.
Two officials who previously worked closely with Netanyahu and five others who held senior positions at Bezeq Israeli Telecommunication Corp. were detained Sunday on suspicion of offenses including fraud, breach of trust, money laundering and obstruction of justice, police spokesman Micky Rosenfeld said in a statement Tuesday. 
The suspects are: 
Shaul Elovitch, former Bezeq chairman
Shlomo Filber, ex-director general of the Ministry of Communications and formerly Netanyahu's chief of staff 
Stella Handler, Bezeq CEO
Nir Hefetz, former spokesman for Netanyahu family
Iris Elovitch, wife of Shaul
Or Elovitch, son of Shaul and Bezeq board member
Amikam Shorer, business development manager at Bezeq
Investigators say they're probing whether the Communications Ministry crafted rules benefiting Bezeq in exchange for positive coverage of Netanyahu and his wife, Sara, on Bezeq's Walla! news outlet. 
Shares of Bezeq dropped as much as 1.6 percent Tuesday and were down 0.4 percent at 5.152 shekels at 2:17 p.m. in Tel Aviv.
Wife's Case
The prime minister has not been named as a suspect in the Bezeq case, but the suspicions against his close associates have heightened the pressure on him to step down. Police last week recommended Netanyahu be charged with bribery and breach of trust in two other cases.
Netanyahu denies wrongdoing and has sought to frame the accusations as a witch hunt by left-wing opponents who failed to defeat him at the ballot box. He said he expects to serve out his term, which ends in late 2019.
Opposition politicians have called on him to resign, saying he can't focus on running the country amid his legal troubles. Netanyahu's coalition partners have stuck by him, though some said their calculations could change if the attorney general indicts him.
Also Tuesday, police said, without giving details, that they detained two people over suspicions they offered to advance a government employee's candidacy for attorney general if she would promise to take certain actions in a certain criminal case. After Israeli media reported more details, Netanyahu denied that Hefetz had asked judge Hila Gerstel to close a criminal case against Netanyahu's wife.
Previous Probe
The latest wave of Bezeq-related arrests builds on a previous Israel Securities Authority investigation into the company, which ended in recommendations to indict Filber, Shaul Elovitch and other senior figures at the company.
For more on the prior investigation into Bezeq, click here.
"Shaul Elovitch vehemently denies the suspicions against him," Anat Paz, a spokeswoman for Bezeq's parent, Eurocom Group Ltd., said in an emailed statement. "We're confident that when things become clear, it will be possible to see that no crime was committed."
She also denied the allegations against Elovitch's wife and son.
(
Adds share price in fifth paragraph, details of additional case in eighth paragraph.
)
Before it's here, it's on the Bloomberg Terminal.
LEARN MORE