Wealth
Palm Beach Billionaires Sip Tap Water at Benefit for Everglades
By
Jimmy Buffett, Paul Tudor Jones's daughter Caroline perform

Peterffy, Schwarzman, Kravis, DiMenna dress 'parrothead posh'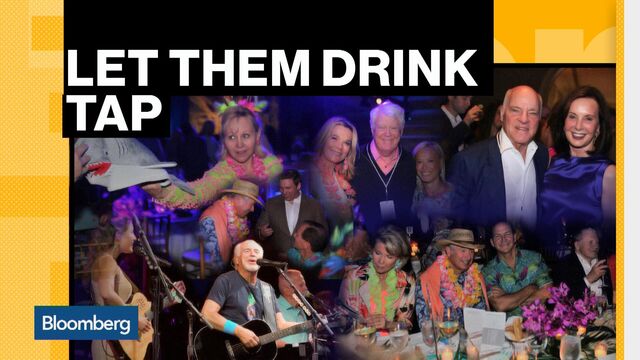 With Jimmy Buffett in the house, there was no shortage of Margaritaville Tequila or LandShark Lager to toast 25 years of the Everglades Foundation. But when it came time to raise glasses Saturday night, guests in the ballroom of the Breakers in Palm Beach sipped something else.

"Florida drinking water, everyone?" said Mary Barley, a past chairwoman of the foundation, as Christine and Steve Schwarzman, Marie-Josee and Henry Kravis, Sonia and Paul Tudor Jones, Thomas Peterffy, Bill Koch and Ken Langone took a few gulps.
"It's not bad, is it?" Barley added. "Just think if you didn't have it?"

Getting billionaires to try the tap water is one way the foundation gets its message across. Protecting threatened species and swampy habitats sounds important; maintaining clean drinking water for 8 million people, even more so. It's personal and concerns a public resource everyone takes for granted, even as pollution and hurricanes like Irma pose threats.

The foundation's latest effort is getting a reservoir built to store and clean water and send it south. One big issue is how much land it will need. The sugar industry operating in the proposed area got a mention on stage from Jones, a longtime Everglades defender.
"I want to recognize the six demonstrators out front who were attacking me, personally paid for by the sugar industry," Jones said. "Just want to pass on a message to them: sorry you had to work on a Saturday night while I'm having fun."
That fun raised more than $3 million for the Everglades Foundation with Johnny Morris, founder of Bass Pro Shops, serving as honorary chairman, and tickets starting at $1,250.

Taking the "parrothead posh" dress code seriously, Blackstone Group's CEO wore a straw hat and neon flower lei as he dug into his first course, a shrimp cocktail served in a coconut. Hedge-fund manager Joe DiMenna carried around a plush cheeseburger, and Chuck Royce had a plush shark on his head.

Jones wore a few metaphorical hats: he sat between Schwarzman and Peterffy for dinner, navigating a table visit from Representative Ron DeSantis, a Florida Republican running for governor. The hedge-fund manager was also a proud papa, dancing and cheering when his daughter Caroline Jones joined Buffett and his Coral Reefer Band on stage. (Her song "Country Girl" talks about her dad: "He wrote his mom and dad a letter, 'I'll be a millionaire by 25.'")

The performance was outdoors along the beach, instead of in the ballroom, on a balmy evening that showed off Florida's winter weather. But it took place against the somber backdrop of the shootings at Marjory Stoneman Douglas High School, named for the conservationist and author of "The Everglades: River of Grass," who lived to the age of 108.

"I'm a huge hunter, huge gun owner," said Jones in an interview on his way to the concert. "The idea that we're selling assault weapons over the counter is abominable, abominable, and that we don't have background checks, abominable. These gun laws are insane, insane."
"There are certain battles you fight harder than the others," author Carl Hiaasen said in an interview, drawing a link between the movements for gun control and Everglades wetlands conservation. "The connection is we have gutless political leadership, and we need to write about it and scream about it."
Before it's here, it's on the Bloomberg Terminal.
LEARN MORE