markets
Market's Red Line for Yields Isn't Where Most People Think
By
Stocks will rise with yields until rates reach 3.5%, CS says

Once they push past 4 percent, equity declines more likely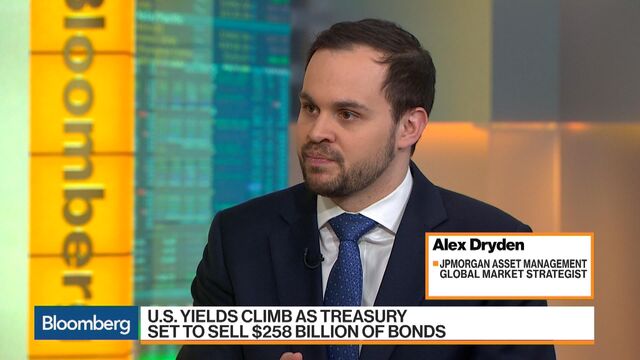 Among the myriad theories for the violent correction in equities two weeks ago, one of the most prominent was a spike in Treasury yields toward the dreaded 3 percent level.
It's wrong, according to Jonathan Golub, chief U.S. equity strategist at Credit Suisse AG.
At least that's the case when the 10-year rate is below what he calls the neutral level of 3.5 percent, Golub wrote in a note to clients Tuesday. The last time the 10-year yield topped that was in 2011.
"Everybody says that rising yields are bad, but if you put aside that preconception and look at the data, you see that it's not the case," Golub said by phone on Tuesday. "If rates rise from 3 percent, that's a good thing."

This year through Friday, the 10-year yield has risen 22 times as it surged from 2.41 to 2.94 percent -- and the S&P 500 Index has advanced for exactly the same number of days. While that perfect record was upended Tuesday, stocks rose with yields in the previous two years, as well. The yield averaged 1.83 percent in 2016 and on days it went up, the benchmark equity gauge had a return of 43.5 percent, data by Credit Suisse showed. In 2017, rising rate days saw stocks climb 31.2 percent.
Golub also said that topping the 3.5 percent neutral rate won't necessarily lead to an equity selloff. What matters is the trajectory of the yields after. If rates stay unchanged at this level, the S&P 500 probably won't react. The further away yields rise from the 3.5 percent threshold, the bigger problem it becomes.
"If yields rise from 4 percent, that's a problem," he said. "If rates rise from 5 percent, that's a bigger problem."

For now, Golub says the 10-year yield can climb another 50 to 60 basis points and the S&P 500 would advance 5 to 6 percent. For now, investors mistakenly blame rising yields for a recent market correction when climbing inflation and tight labor market are probably to blame, he said.
"We have a tight labor market, we have inflation higher than people think and when inflation goes up it tends to represent cost pressure for companies, and this tends to be a problem over time for profit margins," Golub said. "Rising cost pressures will eventually be problematic for profitability, and that's what I think the market is concerned about."
Brian Belski, chief investment strategist at BMO Capital Markets, echoes Golub in not being too pessimistic about the effect of interest rates on the stock market at current levels. What is important for Belski, one of Wall Street's biggest bulls, is the market's solid earnings growth, which will keep supporting shares.
JPMorgan Chase & Co. is also relaxed about equity valuations, despite the recent uptick in yields.
"Given global synchronized growth combined with policy support, we believe an equity multiple of ~18x is reasonable as long as yields don't exceed 4 percent," strategists including Dubravko Lakos-Bujas wrote in a note Wednesday.
The bank also pointed to the leverage spread, earnings yield less bond yield, as still above its historical average at 163 basis points. That supports a relative-valuation case for equities and motivates corporates to deploy buybacks, special dividends and leverage.

"As earnings go up, the stocks market goes up, and interest rates go up, it all works together," Belski, chief investment strategist at BMO Capital Markets, said on Bloomberg TV on Tuesday. "We used to call it the circle of life."
(
Updates with JPMorgan comments from 11th paragraph.
)
Before it's here, it's on the Bloomberg Terminal.
LEARN MORE