technology
Glass Lewis Urges Qualcomm Holders to Elect Broadcom Board Slate
By
Shareholder adviser recommends voting for all six nominees

Qualcomm has 'consistently dragged its feet': Glass Lewis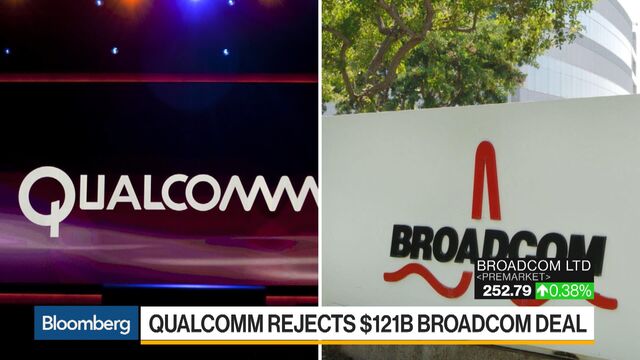 Qualcomm Inc. shareholders should consider electing the six nominees that suitor Broadcom Ltd. has put forward for its board, according to proxy advisory firm Glass Lewis & Co.
Glass Lewis believes changes to the board are necessary after Qualcomm "consistently dragged its feet" in engaging with Broadcom, saying the lack of effort should concern investors, according to a report Tuesday. Winning six seats on Qualcomm's board would give Broadcom a majority slate at its rival chipmaker as it seeks to proceed with an unsolicited bid for the company.
Glass Lewis said Qualcomm should enter discussions with Broadcom, and that incumbent directors' unwillingness to do so provides sufficient basis for shareholders to consider all six nominees.
MORE:Qualcomm Increases Offer for NXP, Cuts Deal With Holders
Broadcom's latest bid of $82 a share, made public last week, is high enough to inspire board-level discussions, Glass Lewis said. Qualcomm shares fell 3.9 percent at 9:49 a.m. in New York to $62.34.
Glass Lewis is the second influential proxy advisory firm to come out in favor of Broadcom's suggested board members. Institutional Shareholder Services Inc. on Saturday advocated for four of the six nominees. Qualcomm shareholders are scheduled to vote on the slate of Broadcom nominees on March 6.
After making an initial offer in November, Broadcom increased its bid 17 percent to $121 billion this month and tacked on an $8 billion reverse termination fee. The offer was enough to prompt Qualcomm to meet with the larger chipmaker last week, but its board said discussions with Broadcom failed to convince directors to go ahead with a transaction.
Before it's here, it's on the Bloomberg Terminal.
LEARN MORE