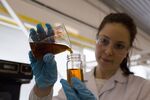 For the oil and gas industry, there's something very wrong with this picture:
I ran that screen of CEOs and CFOs in listed oil and gas companies on the Bloomberg Terminal after a conversation with Katharina Rick. She's a partner at The Boston Consulting Group and co-author of a report on gender diversity in the energy industry titled "Untapped Reserves," produced in conjunction with the World Petroleum Council and surveying more than 2,000 professionals at 38 companies.
It isn't a glowing report card. While I limited my search to just two C-suite roles, one big finding in the report is that oil and gas has one of the lowest shares of female employees of any major industry; an imbalance that transcends seniority, geography and business segment:
Apart from being, above all else, unfair, this is just bad business -- especially for this industry at this moment in time.
It is difficult to thrive over the long term if you invest time and money in something -- a factory, a brand, a person -- and then, after several years, just let it slip away. Yet this is exactly one of the ways in which the oil and gas industry as a whole fails many of its female employees and ultimately itself. The survey found that women's satisfaction with their career progression fell to its lowest point when they had been in the job for three to five years, whereas their male counterparts' enthusiasm spiked just then.
The number-one cause of women's disaffection is a lack of awareness of opportunities to keep climbing, with 51 percent of respondents citing this (versus 32 percent for men). Reasons given in the survey for this range from a prevalent, and incorrect, assumption that women simply aren't interested in certain roles to reported instances of companies trying to save money by not having to provide separate facilities at drill-sites and other locations (feel free to just put your head on the desk for that one).
This is a crazy waste for an industry already trying to dig out from under a decade marked by poor investment decisions and which could certainly use fresh modes of thinking.
Moreover, oil and gas companies cannot afford to exclude any potential employees, intentionally or not. The graying of the industry's ranks has been worrying executives for at least a decade, and the layoffs of the crash saw many experienced employees taking early retirement.
In a report released last year, consultants at Accenture estimated the supply of technical professionals in the U.S. upstream business fell by roughly a quarter in the downturn of 2014 to 2016, but projected that demand is set to rise by more than 80 percent through 2025 as activity continues to recover. Filling those spots will be tough. In a separate Accenture survey of U.S. graduates, only 2 percent of them consider oil and gas a top choice for their career.
The professionals retiring now entered the oil business at a time when it was so intoxicating it had its own prime-time TV hit. Today's graduates must weigh their choice in the shadow of the recent crash, climate change, competing energy technologies -- plus, of course, that gender imbalance. The American Petroleum Institute's "Power Past Impossible" campaign -- launched with a Super Bowl ad last year, no less -- is aimed at energy consumers. But its pithy slogans and emphasis on technology also make it look like a recruitment push for millennials and gen-zedders (I'm not sure about that "This Ain't Your Daddy's Oil" tagline, though).
There is actually an opportunity for the industry here. One of the other consequences of the oil crash and the preceding shale boom is an increasing emphasis on digitization. Lower prices dictate that the industry squeeze every molecule of oil and gas from increasingly complex geology as quickly and cheaply as possible, and sell it as smartly as possible. Hence, big data, artificial intelligence, and robotics are all migrating from Silicon Valley to Houston.
This opens up a wider range of graduate qualifications, such as computer science and mathematics, for the industry to draw upon, beyond just traditional ones such as petroleum engineering. A concerted effort to encourage more women into STEM 1 studies -- where they are underrepresented -- and then recruit more of them to use their skills in a changing oil and gas business offers a path to addressing a serious deficiency in a way tailored to meet the challenges of the 2020s and beyond.
Some companies, such as Exxon Mobil Corp., have programs like this in place already, but there is clearly more to do. For example, while the proportion of executive positions held by women at Exxon has risen over the past decade, it stood at 18 percent in 2016.
Achieving anything along those lines requires, at a minimum, demonstrated commitment at the top. Besides offering an example to counteract entrenched biases, this would help address an issue raised consistently in the BCG study; namely, the outsize importance of senior sponsorship in encouraging and enabling women to advance at oil and gas companies.
This support is critical to avoiding that mid-career breakdown identified in the survey -- which, in turn, would move oil and gas closer to, as BCG's Rick puts it, "the requirement of critical mass at every stage" of the business. This isn't about just getting a few more women CEOs or CFOs on the books. It's about doing something the industry understands very well: building a pipeline and keeping it strong.
Before it's here, it's on the Bloomberg Terminal.
LEARN MORE