markets
Five Things You Need to Know to Start Your Day
Get caught up on what's moving markets in Asia.
By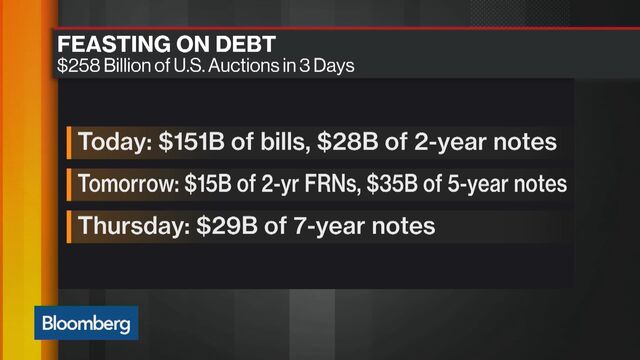 Want to receive this post in your inbox every morning? Sign up here.
The U.S. government is auctioning a lot of debt this week, Bitcoin continues its recovery, and South Korea targets U.S. trade remedies in a new World Trade Organization dispute. Here are some of the things people in markets are talking about.
U.S. Auction Extravaganza
The U.S. Treasury on Tuesday sold $179 billion of securities as it works to rebuild its cash balance following the recent debt ceiling suspension. Yields at offerings of three- and six-month debt rose to levels unseen since 2008, though all told, the offerings saw decent demand. The government began at 11:30 a.m. New York time by auctioning $51 billion of three-month bills at a yield of 1.64 percent, 6 basis points more than similar-tenor debt sold on Feb. 12, and $45 billion of six-month bills at 1.82 percent. Its $55 billion sale of four-week notes at 1 p.m. had a yield of 1.38 percent, with a gauge of demand known as the bid-to-cover ratio falling to 2.48, the lowest level since 2008. The first coupon offering of the week, a $28 billion auction of two-year notes, yielded 2.255 percent, the highest in almost a decade. 
Bitcoin Rebounds
Bitcoin's stunning rebound continued on Tuesday, with the world's largest digital token extending February's gains after South Korean regulators signaled they will actively support what they called "normal" cryptocurrency trading. In a further shift from earlier rhetoric -- which hinted at an outright ban of cryptocurrency exchanges -- Choe Heungsik, governor of South Korea's Financial Supervisory Service, told reporters he wants to see normalized trading of digital assets, and said the FSS is making efforts to do that. Bitcoin traded as high as $11,730 in Tuesday's session.
Korea's WTO Dispute
South Korea launched a World Trade Organization dispute that argued a key provision of the U.S.'s anti-dumping and countervailing investigations violated international trade rules.  The U.S. Commerce Department improperly applied "adverse facts available" from Korean producers and exporters in six anti-dumping and countervailing cases involving various Korean products, according to a document that was circulated on Tuesday. A request for consultations marks the first step in WTO dispute proceedings. The U.S. and South Korea now have 60 days to engage in discussions aimed at settling the disagreement before the latter may pursue a WTO investigation into the matter.
RBI Clamps Down on Offshore Borrowing
The Reserve Bank of India is reviewing its process for allowing companies to raise money overseas due to concern that any increase in rupee volatility may hurt borrowers' ability to repay debt, a person familiar with the matter said. The RBI is spending more time scrutinizing companies' hedging practices, vetting borrowers more closely to prepare for any financial-market fallout from an increase in U.S. interest rates, the person said, asking not to be named as the matter is private.
Coming Up…
Australian policy makers (and FX/rates traders) will be holding their collective breath to see if 4Q wage data due Wednesday morning in Sydney will finally show that strong jobs growth is starting to boost incomes that could lift inflation and the economy. The Asian day also features Japan's preliminary manufacturing PMI. The European session will bring Bank of England head Mark Carney testifying on inflation, Norwegian unemployment, South Africa's national budget and CPI data, along with flash PMIs for the eurozone. And then we get Markit's U.S. flash PMIs and existing U.S. home sales before the day rounds out with FOMC minutes from Janet Yellen's last meeting.
What we've been reading
This is what caught our eye over the last 24 hours.
— With assistance by Garfield Clinton Reynolds, Alex Harris, Eric Lam, and Bryce Baschuk
Before it's here, it's on the Bloomberg Terminal.
LEARN MORE