business
Deutsche Bank Trader Turns to Post-Apocalyptic Fiction Writing
By
Ex-mortgage bond trader Chris Babu now a young-adult novelist

His three-book deal follows 19-year career in banking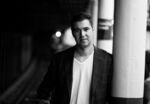 Chris Babu, who ran government-backed mortgage-bond trading at Deutsche Bank AG until 2016, has gotten used to funny looks when people hear about his career change.
He now spends his time holed up with Buddy, his Great Dane, writing post-apocalyptic fiction for young adults from his home in Southampton, New York.
"You're nuts," Babu says old colleagues sometimes tell him. "Get a job that's going to pay you a lot of money."
He's hoping, of course, that he's done just that. Babu's debut novel, "The Initiation," will be released this month by Permuted Press, which specializes in end-of-days and other sci-fi themes. "The Hunger Games" for nerds is how Babu describes the novel, the first in a three-book deal the publisher called its biggest release ever. Babu says he's spending a "not insignificant" amount of his own money to get the word out.
"The general reaction was, 'That's a cool thing you're doing,'" Babu said, despite the occasional questioning of his sanity. "A lot of people didn't take me seriously. They were surprised that I stuck with it."
Though he's a voracious reader, Babu, 42, had always been more of a numbers guy. He graduated from the Massachusetts Institute of Technology with a degree in mathematics, and worked at Bank of America Corp. before landing at Deutsche Bank in 2005, eventually rising to oversee 35 mortgage-bond traders and an $18 billion balance sheet.

"The fact that he understands business was a huge asset to us," Michael L. Wilson, the publisher's president, said. "So many artists don't understand the business side of things."
Fixed-income trading eventually got boring, Babu said. He blames everything from the Federal Reserve's quantitative easing to the Volcker Rule and overzealous compliance units for taking the volatility, profitability -- and ultimately the fun -- out of the business.
By the spring of 2015, Babu was winding down his desk at Deutsche Bank, which was reeling from more than $500 million in losses on bonds amassed by former trading head Troy Dixon. He was also spending large chunks of time in a dentist's chair suffering through a series of root canals. Babu had never considered putting his own ideas to paper, but after mulling it over he realized he had a story to tell.
"I had no qualifications to write a novel," Babu said. He took to writing after work in his final months at Deutsche Bank, and stuck with that schedule once he left Wall Street, sleeping from sunrise to sunset and waking around 5 p.m. to work.
The novel was partly inspired by what Babu called his "daily hellish commute" from Manhattan's Upper West Side to Wall Street on the 2/3 subway line. The main character is a 16-year-old math geek who, along with five other kids, has to undergo a series of tests in the abandoned subway tunnels of Babu's post-apocalyptic New York. You fail, you die.
While he's embraced his new persona as an author, Babu admits he misses parts of his old life, like the pace of the trading floor and camaraderie with fellow traders. He still checks the financial markets daily and keeps in touch with old colleagues.
"As committed as I am to this, I'm not ruling out going back to work in finance," Babu said. "If the books do well, and they become movies, then probably not."
Before it's here, it's on the Bloomberg Terminal.
LEARN MORE