markets
Latvia Evokes Big Illusion for Former ECB Official Demetriades
By and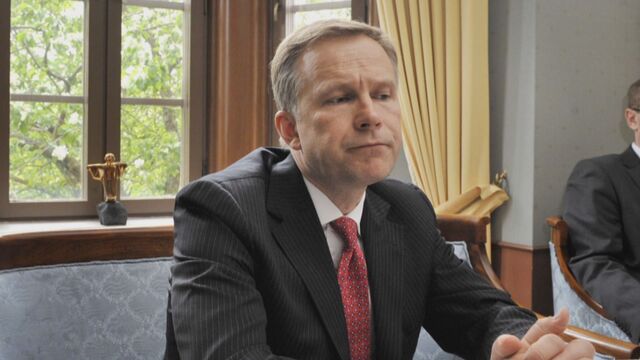 It's been almost four years since Panicos Demetriades succumbed to pressure from the Cypriot government and quit his post as the man in charge of the nation's monetary policy. For him, the detention this weekend of his Latvian peer serves as a reminder that the cocoon of independence around central bankers is fragile.
"Central-bank independence is a big illusion, especially in the European periphery," Demetriades said in an interview on Tuesday when asked about graft allegations against Ilmars Rimsevics.

Latvia's governor insists he's innocent and hasn't accepted any bribes, arguing instead that a group of banks is trying to undermine him, deceiving law enforcement and regulators along the way.
The latest news on Rimsevics's case
The European Central Bank, which has been quick to respond at previous occasions to governments' legal muscle flexing involving its officials, has so far held its breath as it seeks more clarity.
"There has never been such an open allegation against a central-bank governor, therefore it's very risky for the ECB to come out openly until they hear from him and his lawyers," said Demetriades, 59, who recently published a book about his own experience in the spotlight of the Cypriot authorities. "If he says to them 'you need to come out and support me' it's a different story, but they might still be on the fence."
Why ECB President Mario Draghi hasn't commented yet
While the government hasn't succeeded (yet) in its push to make Rimsevics -- the euro area's longest serving central-bank chief -- step aside, his bail terms prohibit him from performing his duties. Even if the ECB decides that it wants to come out in defense of one of its own, its scope to make a difference is limited, according to Demetriades, who currently teaches economics at the University of Leicester in the U.K.
"It's very cunning politically to do this because you know that the ECB and the Commission have very little ability to do anything," Demetriades said. "It really kills central-bank independence at the end of the day. All governments are capable of doing this to any governor, and then the governors find themselves alone."
Before it's here, it's on the Bloomberg Terminal.
LEARN MORE